Oct. 25, 2014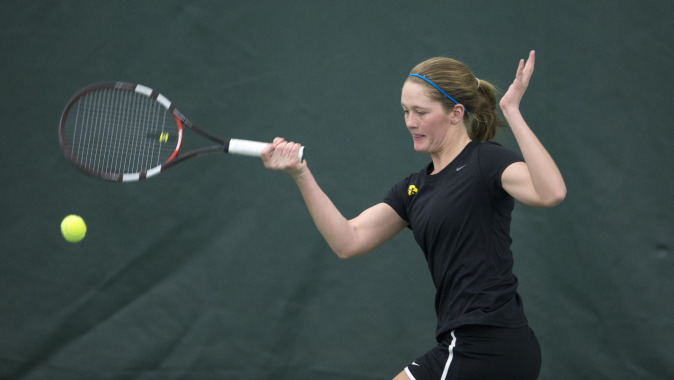 Oct. 25, 2014
DES MOINES, Iowa — The University of Iowa women's tennis team continued its success at the Drake Jamboree with doubles team Annette Dohanics and Anastasia Reimchen, along with sophomore Aimee Tarun, remaining undefeated in doubles and singles play, respectively.
"We had a lot of close and competitive matches today and did a very good job competing throughout the day," UI head coach Katie Dougherty said. "I feel like we definitely raised our level from yesterday and it showed across the board in singles and doubles."
Junior Annette Dohanics and freshman Anastasia Reimchen continued their winning streak Saturday, defeating Bradley's Ashley Thai and Alexa Brandt, 8-6. The duo is now 3-0 for the weekend in doubles play.
Dohanics also registered two wins in singles play. She defeated both SIUE's Monique Krutak, 3-6, 6-2, 10-7 and Kansas State's Maria Panaite, 6-3, 4-6, 10-6.
Reimchen, fellow freshman Montana Crawford, and senior Katie Zordani all split a pair of matches during singles competition. Reimchen began the day defeating Laura Hopton (Kansas State), 5-7, 6-3, 10-5, but then fell to Kansas State's Iva Bago, 6-4, 3-6, 10-6. Zordani started the day strong with a win over SIUE's Mia Frogner, 6-3, 7-5, but was overcome by Livia Cirnu (Kansas State), 3-6, 7-5, 10-8. Crawford, similarly, found success during her first singles match of the day, posting 6-2, 6-4 over Kali Donner of SIUE, but was defeated by Kansas State's Amina St. Hill, 6-1, 6-1.
Sophomore Aimee Tarun remains undefeated in singles play during her first tournament of the fall schedule. On Friday, Tarun defeated CU's Ashley Monaco, 6-2, 6-2, and continued her success overcoming both Haley Ilcewicz (SIUE) and Laura Hopton (Kansas State), 6-1, 6-1, and 6-1, 6-4, respectively.
Competition in Des Moines will continue Sunday at 9 a.m. (CT).
Singles
Anastasia Reimchen (IOWA) def. Laura Hopton (Kansas State), 5-7, 6-3, 10-5
Iva Bago (K. State) def. Anastasia Reimchen (Iowa), 6-4,3-6, 10-6
Katie Zordani (IOWA) def. Mia Frogner (SIUE), 6-3, 7-5
Livia Cirnu (K. State) def. Katie Zordani (Iowa), 3-6, 7-5, 10-8
Annette Dohanics (IOWA) def. Monique Krutak (SIUE), 3-6, 6-2, 10-7
Annette Dohanics (Iowa) def. Maria Panaite (K. State), 6-3, 4-6, 10-6
Montana Crawford (IOWA) def. Kali Donner (SIUE), 6-2, 6-4
Amina St. Hill (K. State) def. Montana Crawford (Iowa),6-1,6-1
Aimee Tarun (IOWA) vs. Haley Ilcewicz (SIUE), 6-1, 6-4
Aimee Tarun (Iowa) def. Laura Hopton (k. State), 6-1,6-1
Doubles
Dohanics/Reimchen (IOWA) def. Brandt/Thai (BU), 8-6
Tarun/Zordani (IOWA) def. Dechter/Toidze (BU), 8-4
Ilcewicz/Krutak (SIUE) def. Crawford (IOWA)/Wojtalik (BU), 8-3