Box Score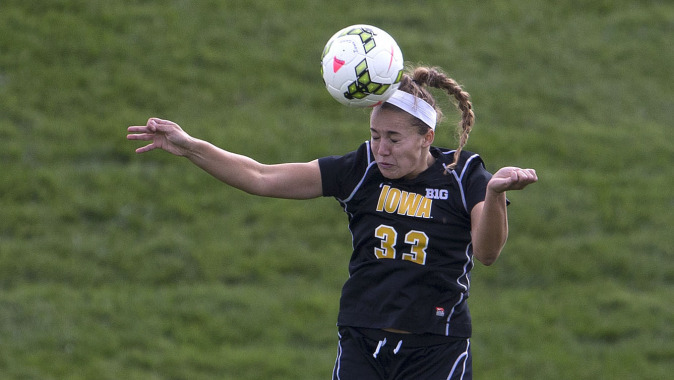 Oct. 26, 2014
UNIVERSITY PARK, Pa. — Sophomore Corey Burns' early strike wasn't enough as the University of Iowa women's soccer team fell to 7th-ranked Penn State, 2-1, on Sunday at Jeffrey Field. It was the Hawkeyes' fourth one-goal defeat this season.
Iowa jumped out of the gate to take an early lead over Penn State five minutes into the game. Burns punched in her second goal of the year to put the Hawkeyes up, 1-0, scoring via a corner kick. The Hawkeyes were outshot, 10-3, in the first half, but managed to take the one goal lead into the break.
It was all Penn State in the second half, scoring two goals and outshooting Iowa, 7-2. After being held scoreless in the first half, the Nittany Lions tied it up in the 54th-minute when Kori Chapic scored from 25-yards out. Five-and-a-half minutes later, Penn State took the lead for good when Chapic scored her second goal of the game. It is the fourth time this season the Hawkeyes have allowed more than one goal in a game.?
Junior Hannah Clark recorded a season-high seven saves in the loss, pushing her into fourth place all-time in career saves at Iowa with 191.
The Hawkeyes conclude the regular season with a road trip to Nebraska on Oct. 31. The matchup is slated to begin at 3:30 p.m. (CT).