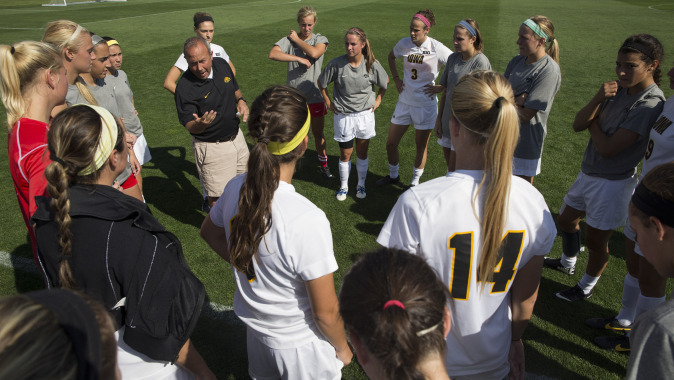 Nov. 1, 2014
2014 B1G Tournament Bracket

IOWA CITY, Iowa — The University of Iowa soccer team will face fourth-seeded Rutgers at 9:30 a.m. (CT) in the quarterfinals of the 2014 Big Ten Tournament on Wednesday in West Lafayette, Indiana.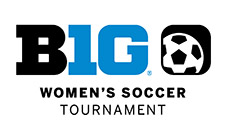 The Hawkeyes tied for fifth place in the Big Ten standings with a 7-5-1 record, earning the No. 5 seed via its 1-0 victory at Minnesota on Sept. 20.
The Scarlet Knights won the regular season meeting over Iowa in Iowa City by the count of 1-0 on Sept. 28. The champion of the 2014 Big Ten Tournament will earn the automatic bid to the NCAA Tournament.
Regular season champion Penn State earned the top seed after finishing 12-1-0 during the regular season. The Nittany Lions will face No. 8 seed Northwestern. Wisconsin is the No. 2 seed where it will square off against No. 7 seed Illinois for the second time in six days. Michigan is the No. 3 seed, where it will face sixth-seeded Minnesota.
The Hawkeyes finished the regular season with a 12-6-1 overall record and the team's seven Big Ten wins were tied for the most in program history. Iowa is making its fourth-straight Big Ten Tournament appearance a year after advancing to the championship game for the first time in school history.
All matches will be held at the Boilermaker Soccer Complex. All four quarterfinal games will be streamed live on the BTN Plus on BTN2Go.
Big Ten Tournament Schedule
No. 4 Rutgers vs. No. 5 Iowa — 9:30 a.m.
No. 1 Penn State vs. No. 8 Northwestern — 12:30 p.m.
No. 2 Wisconsin vs. No. 7 Illinois — 3:30 p.m.
No. 3 Michigan vs. No. 6 Minnesota — 6:30 p.m.
(All Times Central)