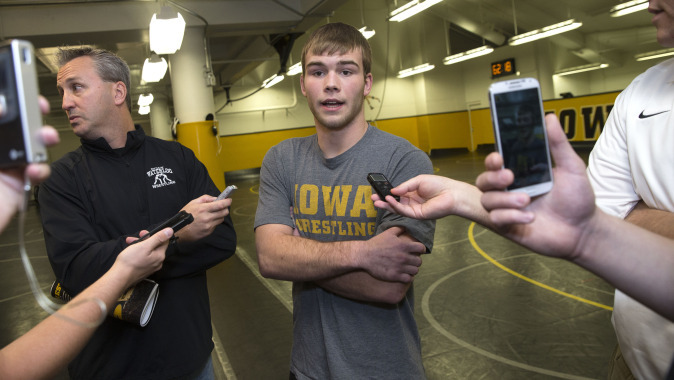 Nov. 6, 2014
By JAMES ALLAN
hawkeyesports.com
IOWA CITY, Iowa — Redshirt freshman Brandon Sorensen is ready to earn his spot at 149 pounds for the University of Iowa wrestling team.
Sorensen is listed at both 149 and 157 pounds on the 2014-15 roster, but his eye is on 149. Iowa has a returning NCAA qualifier at 149 pounds in Brody Grothus and in the offseason added Upper Iowa transfer Edwin Cooper, a 2014 NCAA Division II runner-up. The 157-pound weight class, meanwhile, is wide open following the graduation of four-time All-American Derek St. John.
"It's going to be a battle," Sorensen said Thursday at Iowa wrestling media day inside the Dan Gable Wrestling Complex. "I am gunning for 149 pounds. That's what I work for every day."
Sorensen joined the Hawkeyes with the sparkling prep resume. He was a four-time Iowa high school state champion at Denver High School, and finished with a 208-3 career record. The 208 victories rank as the most all-time in state history.
Early in his true freshman season with the Hawkeyes, Sorensen won open titles at the Grand View, Pat "Flash" Flanigan, and Jim Fox Opens. He also placed second at the season-opening Luther Open, falling to St. John in the finals, and finished third at the Midlands Championships.
He went 6-1 during the Midlands, posting a victory over Virginia Tech's 12th-ranked Zach Neibert (7-6), and a 4-2 win over Grothus.
| | |
| --- | --- |
| | "It's going to be a battle. I am gunning for 149 pounds. That's what I work for every day." |
The Midlands performance excited UI head coach Tom Brands and the Hawkeye coaching staff, but it also reaffirmed the decision to keep the redshirt on Sorensen.
"After the Midlands, I read a quote (in the newspaper)," said Brands. "(Sorensen) said `I don't know if I am ready, but I'll do what they (the coaches) need me to do.' When there's doubt, that means we needed to take a harder look rather than just assume he was ready to go.
"(Sorensen) will jump on a grenade, go through a wall, and go the extra mile for you. He's not going to debate, so if you say something, he'll go `Yeah,' instead of telling you what he thinks."
Sorensen finished with a 24-4 record in open competition during his first collegiate season, and he believes he grew in the process.
"We have put in a lot of time, so I am better strength-wise, physically, and mentally," he said. "We're working every day, and improving every day."
Sorensen says it was difficult watching his teammates take the mat inside Carver-Hawkeye Arena, but he used the experience to learn.
"Seeing the guys wrestle, I wanted to be out there," said Sorensen. "I wanted to be out on the mat in Carver-Hawkeye Arena. When you're watching the matches, you're learning, too. You get more anxious and ready for it, and are building to get there.
"It motivated me that year, and I am looking forward to this year."
The Hawkeyes open the season Nov. 15 at the Luther Open. Iowa's first home competition is Nov. 21 when it hosts the Iowa City Duals.