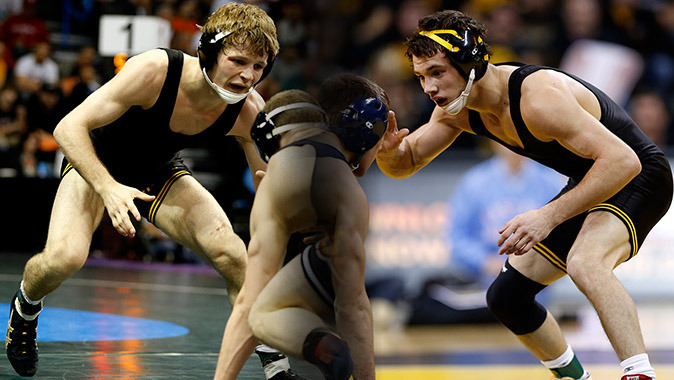 Nov. 11, 2014
Editor's Note: The following first appeared in the University of Iowa's Hawk Talk Daily, an e-newsletter that offers a daily look at the Iowa Hawkeyes, delivered free each morning to thousands of fans of the Hawkeyes worldwide.
IOWA CITY, Iowa — Who is it going to be, Cory Clark or Thomas Gilman? In 2014-15, we can finally say the answer is… both.
As high school seniors in 2012, Clark and Gilman were considered two of the top 125-pound recruits in the nation. Both committed to the University of Iowa, and both spent the 2013 season redshirting behind two-time NCAA champion Matt McDonough.
McDonough's graduation left room in the lineup for one — or the other — but definitely not both.
It created an issue few coaches are lucky to have — one spot for two wrestlers, both capable of winning a national title. Unfortunately, at the time, the national title picture was big enough for only one.
Fast forward one year and the departure of NCAA champion Tony Ramos changes things. Ramos was a mainstay in the Hawkeye lineup for four seasons at 133 pounds. No one in the Iowa corner was excited to see him leave, but his absence resolves one thing — Clark or Gilman becomes Gilman and Clark.
"It's all positive," Clark said of moving to 133 for his sophomore season. "It's good for our team. It's good for the lineup to have both of us in there, and we can feed off of each other even more than we did in the past."
Brands said it was Clark who initiated the move to 133, declaring himself the heir apparent to Ramos last summer and avoiding another year of who's who at 125.
"If Clark had wanted to stay down, I don't think Gilman was moving up," said Brands. "We would have had an issue there where you probably would have had an early season controversy and then one guy would have had to move up. This works better. Clark came to us in June or early July and it was a quick conversation."
Brands was probably wise to end the conversation before Clark had a change of heart. With both wrestlers in the lineup, Iowa is the only school in the country with wrestlers ranked in the top five at both 125 and 133 — Gilman is ranked fourth, Clark is fifth.
"It works out well that way," said Brands. "Both of those guys are super capable, but there are no automatics, and the preseason rankings do not really matter. When you look at (A.J.) Schopp and Mason Beckman at 133, and then you look at Nahshon Garrett and (Jesse) Delgado at 125, I mean, the challenges are there."
The challenge to reach the top of the podium extends up and down the Hawkeye lineup. Iowa has nine wrestlers ranked in the top 10 and is the preseason favorite in the USA Today/NWCA Coaches Poll, but only one of those wrestlers — heavyweight Bobby Telford — is ranked third or better.
In other words the prognosticators like the Hawkeyes as a whole, but have doubts about whether their individual parts are strong enough to survive an NCAA tournament bracket. It's a theory that will take five months to prove or disprove, and for now it's lost on some Iowa ears.
"Being on the top is always where we want to be," said Clark, "but whether we're ranked at the top or ranked fifth we're going to work the same and train the same."
"We have a lot of depth and a lot of fighters," said Gilman. "We're going to be tough at 10 weights, but we have to fight, and if we fight, we'll be alright."