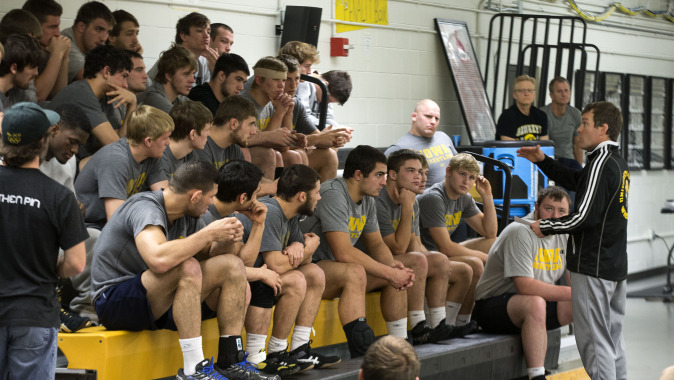 Nov. 13, 2014
IOWA CITY, Iowa — The University of Iowa Wrestling team opens the 2014-15 season at the Luther Open on Saturday in Decorah, Iowa. Competition begins at 9 a.m. (CT) in the Regents Center on the lower campus of Luther College.
Tickets are available for purchase at the door. Adults are $15 and youth are $5. The Hawkeyes are one of 23 schools competing in two divisions. A Silver and Elite Division will be determined by individual experience.
A year ago, Iowa swept 10 weights in the Elite Division and added a pair of titles in the Freshmen Division. Bobby Telford recorded five pins to win the 285-pound bracket. He is one of six returning tournament champions competing this weekend. The others include Cory Clark (125), Josh Dziewa (141), Michael Kelly (149), Mike Evans (174), and Kris Klapprodt (197).
Clark won the 125-pound bracket a year ago, but is competing at 133 this year. Kelly is moving up a weight after winning the 149-pound bracket last season. Kelly defeated Iowa newcomer Edwin Cooper in the finals. Cooper is expected to compete at 149 on Saturday.
Thomas Gilman, Topher Carton, Brandon Sorensen, and Sammy Brooks all finished runner-up last season. Gilman is back at 125 pounds, and Brooks returns at 184. Carton placed second at 133, but is moving up to 141. Sorensen, runner-up at 157 last season, is moving down to 149.
Fans can follow the Luther Open at TrackWrestling.com.
Iowa returns home Friday, Nov. 21, hosting Baker University, Cornell College, and Iowa Central in the Iowa City Duals. Competition begins at 9 a.m. (CT) on Mediacom Mat at Carver-Hawkeye Arena. Tickets are $12 for adults and $8 for youth 18 and younger. UI students and children five-years old and younger are admitted free to all home wrestling events.