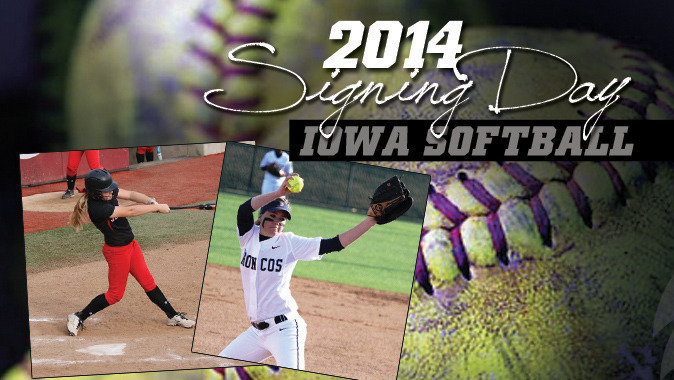 Nov. 18, 2014
IOWA CITY, Iowa — Two prep players have signed National Letters of Intent to play softball for the Hawkeyes, University of Iowa head softball coach Marla Looper announced Tuesday. McKinney, Texas, native Erin Riding and Jefferson City, Missouri, native Brooke Rozier will join the team as freshmen in 2015.
"It's been a long time coming, signing day seems like it should have happened a long time ago," Looper said. "They both committed early, have wanted to be Hawkeyes and are ready to get here. They're already bleeding Black and Gold.
"They've bought into not only the University of Iowa, but the softball program and the ideals and values of it. It's a small class, but they are going to be great assets to our program."
Riding is a three-time all-area honoree and two-time district pitcher of the year at McKinney Boyd High School. She guided the Broncos to outright district championships in 2012 and 2013 and a district co-championship in 2014, and three straight bi-district championships and area championships. In 2013, McKinney Boyd won a region quarterfinal championship and was a region semifinalist, finishing among the top 16 5A teams in Texas.
Riding has also earned Max Preps Freshman All-America, district defensive player of the year, high school team MVP, and All-DFW Metroplex recognition in her high school career. She also excels in the classroom, as she was named academic all-district in 2012 and McKinney ISD Scholar Athlete of the Week in 2012 and 2013.
Riding plays club for the Texas Glory (Gold) based out of Shelton, Texas. In 2014, the 18U team earned a Gold Colorado Fireworks Super 64 championship and a sixth-place finish at Gold Triple Crown USA Nationals.
"Erin has a get to work mentality, she'll go right at you and won't let down," Looper said. "She moves the ball well and has a really nice off-speed pitch, which makes her powerful and deadly on the mound. She has a lot up upside and a lot of command. I'm looking forward to her growth. She's going to give us a lot of depth in the circle and impact us right away."
Rozier is a four time all-district honoree, three-time all-region pick and all-state selection at Jefferson City High School. She has helped the Lady Jays to district, sectional and quarterfinal championships and a third place result at state in 2014, and district and sectional championships in 2011.
The catcher/utility player holds school records in home runs in a single season, home runs in a career, single-season RBIs, career RBIs, single-season batting average and career batting average. Rozier has also excelled in the classroom. She is a four-time academic all-state honoree, honor roll member and athletic academic award (for having a 3.5 GPA or higher) recipient, a member of the Athletic Leadership Counsel and student of the month (November 2014) pick.
Rozier currently plays club for the DeMarini Aces (Zephyrs), which appeared twice at PGF Nationals and the Boulder Invitational and against the Netherlands National softball team.
"Brooke's biggest asset is her bat," Looper said. "She's solid behind the plate too and has the ability to play some corner infield, but she's going to be an addition of power to our program. She's a workhorse who likes to get after it and put in the work. She has a lot of passion for the game and is smart. She has the intelligence to call a game behind the plate."
2015-16 Iowa Softball Signing Class
Name
Pos.
Ht.
Hometown (High School)
Erin Riding
P
5-8
McKinney, Texas (McKinney Boyd)
Brooke Rozier
C/UT
5-8
Jefferson City, Mo. (Jefferson City)