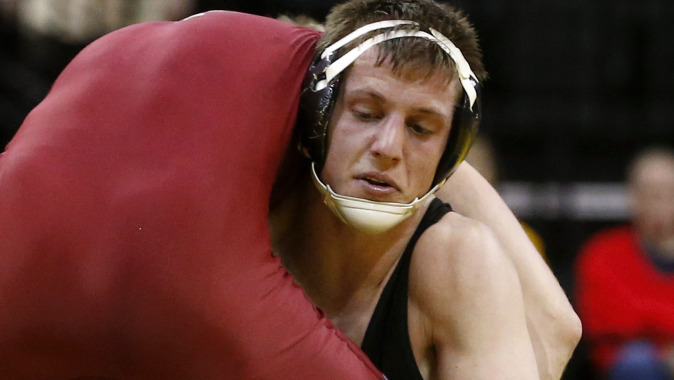 Nov. 18, 2014
By DARREN MILLER
hawkeyesports.com
IOWA CITY, Iowa — The NWCA/USA TODAY Division I wrestling coaches poll was released Tuesday and the University of Iowa had nine competitors ranked in the top 10.
Hawkeye senior 157-pounder Mike Kelly looks to join the list soon.
The unranked Kelly has a 28-3 career record at 157. He won five straight matches to begin the season — two by fall — while winning the Elite title at the Luther Open on Nov. 15.
"I feel strong, energized, and the mind feels good," said Kelly, who owns a 40-28 career record. "I have more horsepower than previous years."
Kelly won his first two bouts at Luther by fall, then won by decisions of seven, three, and two points.
"I'm focusing on going out there, scoring points, building leads," Kelly said. "I want the focus of my year to be scoring lots of points. If I'm scoring lots of points, that means there are a lot of flurries and a lot of action going on which favors me."
Kelly and the top-ranked Hawkeyes return to action for three Friday matinees against Baker (9 a.m.), Iowa Central (10:30), and Cornell College (noon) inside Carver-Hawkeye Arena.
"It's not as simple as getting three wins. I want to go out there and get three majors, tech falls, or pins," Kelly said. "I need to start putting up bonus points and I'm capable of that. I have to go out there and do it."
The Hawkeye weight-by-weight breakdown includes seven competitors at 149 pounds and four at 157. Kelly is prepared to hold his ground against all comers.
"If they want to come up, come up," Kelly said. "I welcome anybody who is going to come to Carver-Hawkeye Arena and I welcome anybody that is going to step out on the mat with me. I can take care of myself."
Kelly isn't a newcomer to the varsity lineup. The two-time state champion from Cedar Falls, Iowa, has competed in 32 duals, 11 in the Big Ten Conference. He has gone 10-10 in duals the past two seasons, but his overall Big Ten record is 2-9.
"Mike Kelly right now is the guy (at 157 pounds) and we'll see how it goes," UI head coach Tom Brands said Tuesday in the Dan Gable Wrestling Complex.
Brands said there is a way for Kelly — or any Hawkeye — to stay on top of the depth chart.
"You can answer them easily and that is by performance and a wide gap in your scores," Brands said.
Brands said the Hawkeyes are moving forward after shaking off the rust with a dominating performance at Luther. They will have another opportunity Friday and during an open competition Saturday.
"There has got to be action," Brands said. "We have some tough guys and we have to prove it more — like three or four deep at every weight."