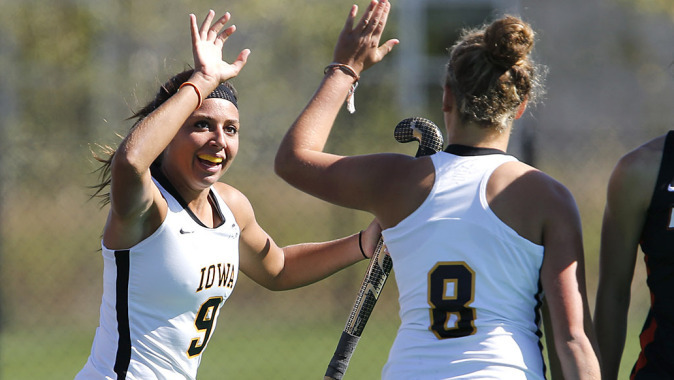 Dec. 1, 2014
IOWA CITY, Iowa — Two members of the University of Iowa field hockey team — junior Natalie Cafone and sophomore Stephanie Norlander — have been named 2014 Longstreth NFHCA Division I All-Americans, it was announced Monday by the NFHCA. Cafone was named to the first team, while Norlander landed second team honors.
"I am so excited and proud for Natalie and Stephanie," said UI head coach Lisa Cellucci. "Their athleticism, speed, competitiveness, and execution led them to be one of the most dynamic duos in the country. What is so exciting is that they are only a sophomore and a junior and still have so much hockey ahead of them."
Cafone and Norlander mark the 86th and 87th national All-Americans in program history, only four programs nationally have produced more.
"Being named a first-team and second-team national All-American is an outstanding honor," said Cellucci. "As the 86th and 87th national All-Americans in Iowa field hockey's history, Natalie and Stephanie are continuing the tradition of excellence within this program."
Cafone earns her second All-America recognition after pacing an Iowa offense that ranked ninth nationally and averaged more than three goals per game. The Fairfield, New Jersey, native was named NFHCA West Region Offensive Player of the Year and Big Ten Offensive Player of the Year after leading the league in goals per game (1.00) and points per game (2.33). Cafone moved into Iowa's top-10 goals list on Oct. 25, scoring her 48th career goal in Iowa's 4-0 win over No. 4 Penn State.
Norlander earns her first career All-America honor after finishing second on the team in scoring with 35 points on 15 goals and five assists. The North Vancouver native finished 13th nationally in goals per game (.83) and 19th nationally in points per game (1.94). Norlander — a first-team All-Big Ten honoree — earned Big Ten Offensive Player of the Week on Sept. 30, after scoring a hat trick against Missouri State (Sept. 28). Norlander, who also recorded a hat trick against Ball State on Oct. 3, led the Hawkeyes in game-winning goals (4).
The duo marks the third-straight season Iowa has landed two honorees on the All-America list.