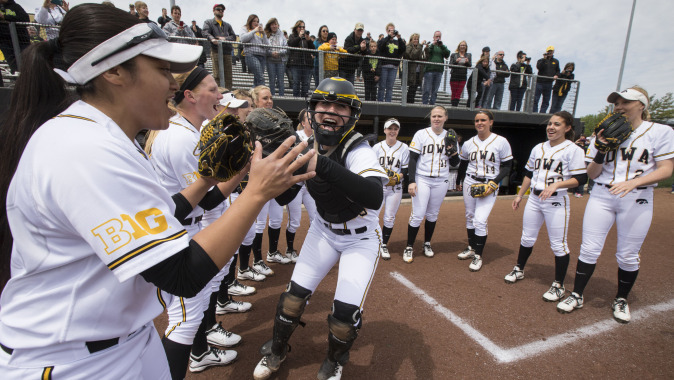 Dec. 1, 2014
IOWA CITY, Iowa — Fifth-year University of Iowa head softball coach Marla Looper announced the 2015 regular season schedule on Monday. The Hawkeyes will play 13 home games, 11 against Big Ten opponents, at Bob Pearl Field this season.
The squad starts the season with five weekend tournaments on the road, opening its slate at the UNI Dome Tournament hosted by Northern Iowa in Cedar Falls. The Hawkeyes then compete in tournaments hosted by Florida, Louisiana-Lafayette, Central Florida, Cal State Fullerton and Oklahoma.
Iowa is scheduled to stay in Oklahoma following its final tournament to play Oklahoma State and Tulsa, before returning to Iowa City to open Big Ten conference play against Maryland, March 20-22. The team's home stand continues with a doubleheader against 2014 co-Big Ten regular season champion Nebraska on March 24.
After a series on the road against defending co-conference regular season champion Michigan, March 27-29, the Hawkeyes travel to Drake for a single game on April 1. Iowa is back in action at Pearl Field with a single game against Western Illinois on April 2, followed by a Big Ten series against Illinois, April 3-5.
Conference series on the road at Wisconsin on April 10-12 and at Purdue on April 17-19 are broken up by a home contest against Iowa Corn Cy-Hawk Series rival Iowa State on April 15.
After a doubleheader at Missouri on April 22 and a Big Ten series at Minnesota on April 24-26, the Hawkeyes close the regular season at home against Northwestern on May 1-3. The Big Ten Tournament, hosted by Ohio State, will take place the following weekend, May 7-9.
Iowa compiled a 16-30-1 overall record and a 9-14 mark in Big Ten conference play in 2014. The team finished eighth in conference standings, with shortstop Megan Blank earning her third-straight first team All-Big Ten accolade.