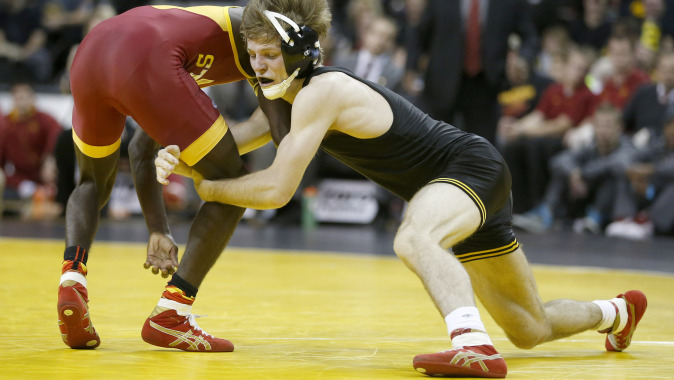 Dec. 4, 2014
Iowa Wrestling Match Notes

By DARREN MILLER
hawkeyesports.com
IOWA CITY, Iowa — Don't take it as a sign of disrespect if University of Iowa sophomore 133-pound wrestler Cory Clark isn't up to speed on all of his upcoming opponents. It's just that the undefeated Hawkeye prefers to worry more about himself.
Clark, 8-0 and ranked No. 4 in the nation, faces Michigan State redshirt freshman Javier Gasca — ranked No. 12 — in the only battle of ranked wrestlers Saturday on Mediacom Mat inside Carver-Hawkeye Arena. Gasca is 8-2 this season, including a 5-3 win over Earl Hall of Iowa State.
"There are little things you need to watch out for slightly, but no matter who I wrestle, 90 percent of it is your wrestling and the way you wrestle," Clark said. "If you're changing your style, that's when things can go the other way."
Clark opened the season with six straight falls and a technical fall. He improved his career record to 3-0 against Hall — ranked No. 14 at the time — with an 8-3 decision Nov. 29.
"I kind of shut down a little bit, which isn't what I want to do," Clark said. "I want to put more points on the board in the future."
UI head coach Tom Brands said Clark is hard on himself and knows he didn't capitalize on an opportunity to score bonus points against Hall.
"A little bit more hustle there and I think he can pick up those extra points," said Brands, who expects to see more pace out of Clark against Gasca.
Clark was 22-4 last season at 125 pounds, winning 8-of-12 matches against ranked opponents. He finished fourth at the Big Ten Championships and fifth at the NCAA Championships. Nine of the top 20 133-pound wrestlers in the country compete for schools in the Big Ten.
"It's always good to wrestle high-level opponents. It can't hurt," Clark said. "It's good that I did get a feel for that."
The start time for the dual between top-ranked Iowa (4-0) and Michigan State (2-3) is 7 p.m. (CT). The Spartans are at Northern Illinois on Dec. 5.
Before then, Clark might sit down and watch tape of Gasca.
"You have wrestled your whole life, you have a good feel for all different styles," Clark said. "You should be aware of and be able to feel all situations. No matter what your opponent throws at you, you should be able to overcome it."