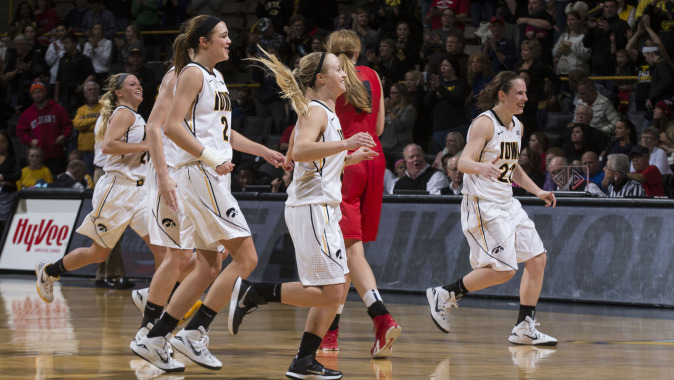 Dec. 5, 2014
Game Notes: Colorado

THE SETTING:
The 19th-ranked University of Iowa women's basketball team (6-2) returns home to host Colorado (6-1) on Sunday at 2 p.m. (CT) on Mediacom Court at Carver-Hawkeye Arena.
TICKETS:
Single-game women's basketball tickets are $12 for adults. Youth — high school-aged and younger — are admitted free to all weekday games, including Friday night games. Youth tickets for weekend games cost $8. Youth — five years old and younger — are admitted free to all games. UI students are admitted free with student ID. Tickets are available by visiting the ticket office at Carver-Hawkeye Arena, calling 1-800-IA-HAWKS, or online at hawkeyesports.com.
SEASON TICKETS:
Season tickets are on sale for the 2014-15 Iowa women's basketball season. General public season tickets are $100. UI faculty/staff can purchase tickets for $80. Seniors (50 and older) are also $80, while youth season tickets (18 or younger) are $25. UI students are admitted free to women's basketball games.
WATCH THE ACTION:
Sunday's contest can be seen on Mediacom Connections (MC22) and also via BTN Plus. Rob Brooks and Shelley Till will call the action.
AUDIO COVERAGE:
Brent Balbinot and Kristi Faulkner will call the game for the Hawkeye Radio Network. Hawkeye fans can listen to the contest on AM-800 KXIC in Iowa City, AM-600 WMT in Cedar Rapids, AM-1040 WHO in Des Moines (and other Hawkeye Radio Network stations), or on the Hawkeye All-Access page of hawkeyesports.com. Balbinot is in his 11th season as Iowa's play-by-play voice.
FOLLOW THE ACTION:
Hawkeye fans can also follow the game via live stats (Gametracker). The "GT" link can be accessed under the "Calendar" tab on the front page of hawkeyesports.com or on the women's basketball schedule page.
SCOUTING COLORADO:
? Colorado is 6-1 on the season. The Buffs are 5-1 at home, and 1-0 on the road (at Denver, 77-49).
? Colorado head coach Linda Lappe is a native of Morning Sun, Iowa. Morning Sun is 50 miles south of Iowa City.
? Lappe is in her fifth year as head coach at Colorado. She graduated from Winfield-Mount Union High School and played at Colorado.
ALL-TIME SERIES / LAST MEETING:
? Colorado, then ranked No. 16, downed Iowa last season in Boulder, Colorado, 90-87.
? The Buffaloes lead the all-time series, 3-1.
? Iowa won the last and only meeting in Iowa City during the 2000-01 season, 92-66, during Lisa Bluder's first year as head coach at Iowa. She earned her fifth win as Hawkeye head coach with the win over the Buffs.
PESCHEL NAMED TO ALLSTATE GOOD WORKS TEAM:
Junior Kali Peschel has been nominated for the 2015 Allstate WBCA Good Works Team®. This prestigious community service award recognizes a distinguished group of student-athletes who have demonstrated a commitment to enriching the lives of others and contributing to the greater good in their communities.
Peschel, a junior from Sauk Centre, Minnesota, has played in every game for the Hawkeyes the last two seasons, making 22 starts. She was a 2014 Academic All-Big Ten honoree.
HAWKEYES 22/19 IN RANKINGS:
Iowa is No. 22 in this week's Associated Press Top-25 poll and No. 19 in the USA Today Preseason Coaches poll.
In the AP Poll, Nebraska is the highest-ranked Big Ten team (No. 12), followed by Maryland (No. 15), Michigan State (No. 16), Rutgers (No. 18) and Iowa (No. 22). Northwestern and Minnesota are receiving votes.
Iowa has been ranked in each of the first four weeks this year: preseason (19/19), week 2 (18/18), week 3 (17/16), and week 4 (22/19).
The Hawkeyes finished the 2013-14 season ranked 19th in the AP Top-25 poll, and 26th (receiving votes) in the USA Today Coaches poll. Iowa was ranked for eight weeks last season in the AP poll, and received votes in nine additional weeks.
ANOTHER TRIPLE-DOUBLE:
Senior Samantha Logic notched her fifth career triple-double on Nov. 22, tallying 12 points, 11 rebounds, and 10 assists to lead Iowa over Dayton in the Hawkeye Challenge title game. She is tied for the fifth-most triple-doubles in NCAA history, and has the most of any player as a member of the Big Ten. Suzie McConnell of Penn State (1985-88) and Louella Tomlinson of St. Mary's (CA) (2008-11) hold the career record with seven. Stanford's Nicole Powell (2001-04) and Alyssa Thomas of Maryland (2011-14) both posted six in their careers. Logic, Joskeen Garner (Northwestern State, 1993-96), Shalee Lehning (Kansas State, 2006-09), and Brittney Griner (Baylor, 2010-13), all have five career triple-doubles.
LOGIC NAMED TO WOODEN AWARD / WADE WATCH LIST:
Samantha Logic, named Preseason All-Big Ten and preseason All-America by ESPN, has been named to the John R. Wooden Award Women's Preseason Top 30 list, comprised of the early front-runners for college basketball's most prestigious honor. The list is chosen by a preseason poll of national women's college basketball media members.
She has also been named a 2014-15 "Wade Watch" list candidate for the prestigious award (The Wade Trophy), the Women's Basketball Coaches Association (WBCA) announced.
Logic, the NCAA's active career assists leader (659), ranks seventh in assists in Big Ten history. She leads the NCAA in the category this season (9.3), while also averaging 10.5 points and 8.5 rebounds per game.
1,000-POINT CLUB:
Four members of this year's team have reached, or have the potential to reach 1,000 career points this year.
Senior Samantha Logic (1,180 points) ranks 22nd on Iowa's all-time scoring list. Crystal Smith is 21st (1,193).
Senior Melissa Dixon (1,075 points) is 29th. Shanda Berry is 28th (1,100).
Senior Bethany Doolittle has 959 career points. She needs 41 points to become the 33rd career member of the 1,000-point club.
Sophomore Ally Disterhoft has 595 career points. She tallied 474 in 36 games as a freshman last year (13.2 per game), and is averaging 15.1 points per game this season.
MOVING UP CAREER CHARTS:
? Samantha Logic (671 career assists) surpassed Cara Consuegra (1997-2001; 576) as Iowa's all-time assists leader during Iowa's win at Illinois on March 2, 2014, in the regular season finale last season. She ranks seventh in Big Ten history. Nebraska's Lindsey Moore is sixth with 699 career assists.
? Melissa Dixon is third in 3-pointers on Iowa's all-time list (236). Jaime Printy is second with 252. Lindsey Meder holds the school record (261).
? Bethany Doolittle is third all-time with 198 career blocks. Tangela Smith is second with 235.
TOUGH SCHEDULE:
Iowa's schedule this season features 29 regular season games (18 conference, 11 nonconference). Of those 29 contests, 20 will come against teams that played in a postseason tournament last season. Seventeen-of-24 teams the Hawkeyes play this season reached a postseason tournament a year ago.
During the 2014 postseason, Big Ten programs combined for 15 NCAA Tournament and WNIT victories, tied for the most postseason wins in conference history.
WATCH THE HAWKEYES:
Twenty-six of Iowa's 29 regular season contests can be seen on BTN, BTN Plus, ESPN2, ESPN3, or MC22 (Mediacom Connections). Seventeen games will appear on BTN or digitally on BTN Plus, and two additional regular season contests will be televised by ESPN2. All 18 of Iowa's league games can be seen on one of the BTN or ESPN platforms, and the Hawkeyes' home nonconference contest against Iowa State on Dec. 11 will be televised by BTN at 7 p.m. (CT).
HAWKEYES AT CARVER-HAWKEYE ARENA:
The Hawkeyes are 354-101 (.778) all-time inside Carver-Hawkeye Arena, and 11-6 in NCAA Tournament games. Iowa went 14-4 at home last season, and is 94-23 in its last 117 games inside Carver-Hawkeye Arena.
Iowa's 14 home wins a year ago equaled the second-highest single-season total in program history. The 14 wins were the most in Iowa City since the Hawkeyes finished 14-0 in the 1995-96 season. Iowa also won 14 home games in 1988-89 (14-0), 1987-88 (14-0), 1986-87 (14-1), 1985-86 (14-1). The program record for home wins is 15, as the Hawkeyes finished 15-0 in 1992-93. Iowa advanced to the NCAA Final Four that season.
IOWA HISTORY:
Iowa has played 1,176 games since beginning basketball in 1974. Iowa's overall record is 725-451 (.617). That includes a 359-183 (.660) mark in regular season Big Ten contests and a 354-101 (.778) mark in Carver-Hawkeye Arena.
UP NEXT:
Iowa hosts Iowa State on Thursday, Dec. 11, at 7 p.m. (CT). The contest will be televised live by BTN.