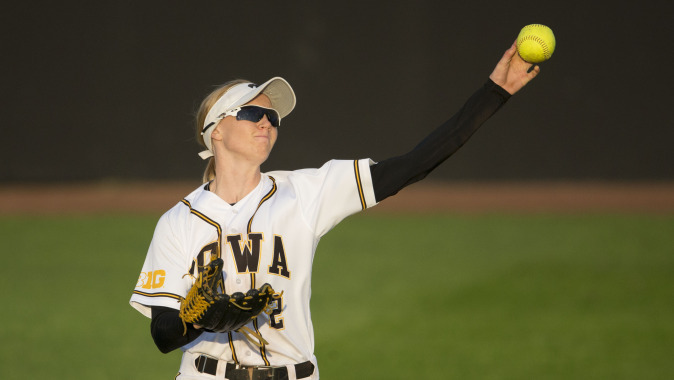 Dec. 23, 2014
Editor's Note: The following first appeared in the University of Iowa's Hawk Talk Daily, an e-newsletter that offers a daily look at the Iowa Hawkeyes, delivered free each morning to thousands of fans of the Hawkeyes worldwide.
By JIL PRICE
hawkeyesports.com
IOWA CITY, Iowa — When the University of Iowa softball program decided to start a blog this year, they knew they wanted to do something different. Instead of a written account of the team's weekly activities, the Hawkeyes wanted to include visual elements to engage and invite fans and supporters into their program.
After having the idea introduced to her by the UI coaching staff, junior outfielder Erin Erickson has been instrumental in planning a vision for the blog — The Dugout — with her teammates.
"Coach Baggetta approached me with the idea over the summer, and I loved it," Erickson said. "Ever since she mentioned it I couldn't stop thinking about what we could do with it.
"We have the opportunity to start a new thing for college sports. I look around and see a lot of football blogs, but there's nothing like it for softball. The idea that we could start something new drew me to want to start it, get creative ideas from the team, and put it together."
Erickson will produce the video content, while junior outfielders Haley Hansel and Whitney Repole will contribute a short write ups to provide context for each entry. The Hawkeyes work together to compile the content for each release by answering questions, providing photos, tweeting on social media, and more.
"It's an interesting project, and when Erin proposed it, I was excited," Hansel said. "I haven't seen anyone else do it or any other programs, so it's something that sets us apart. In the end, I'm hoping the project lets our fans get to know us more and that we're able to use what we're doing in school to help with that."
Erickson, Hansel, and Repole are having fun with the project, but are also gaining valuable experience in the fields they hope to enter following graduation. Erickson and Hansel are studying journalism and mass communications, and Repole is an English major.
"This is a good way for me to grow and have a different type of experience," Erickson said. "It's fun to tell people that I've been involved in a totally different side of media relations or journalism."
"It's been a unique experience being able to collaborate two aspects of my life that are very important to me in journalism and softball," Hansel said. "To be able to combine them adds to the passion I have for what I do and what I want to do in the future."
The first issue, which was posted to hawkeyesports.com on Dec. 4, pulled viewers into the Thanksgiving experiences of the Iowa softball team. It included a video featuring the team's Thanksgiving meal, photos from the player's time at home, and a social media feature.
Future entries will feature the lives of student-athletes, connect with alumni, and showcase key moments of the season from the team's point of view. Look for the next release of The Dugout at the end of the month on hawkeyesports.com.