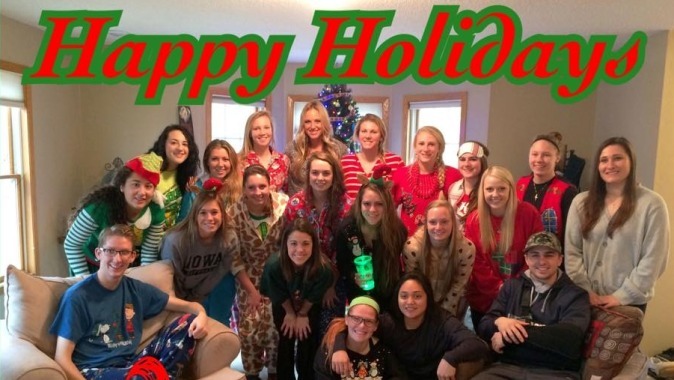 Dec. 27, 2014
Editor's Note: The following first appeared in the University of Iowa's Hawk Talk Daily, an e-newsletter that offers a daily look at the Iowa Hawkeyes, delivered free each morning to thousands of fans of the Hawkeyes worldwide.
By JIL PRICE
hawkeyesports.com
IOWA CITY, Iowa — For the second straight year, the University of Iowa softball team made the decision to give back over the holiday season. The Hawkeyes adopted a local family of four — a mother, son, daughter, and baby boy — through Children and Families of Iowa.
"It's a good way to understand the holiday season," junior outfielder Haley Hansel said. "Between school and softball this time of year almost slips by, so this is a good way to put things in perspective for our team and for me personally."
Each Hawkeye committed to donate $20 to raise a total of $700. The team then split into groups to shop for gifts to give each family member.
Last Saturday, the student-athletes and staff gathered at head coach Marla Looper's home to wrap the gifts and celebrate the season. The gifts were dropped off early last week, which allowed for the family to open on Christmas.
"It's a good way for all of us to come together on one project because we do a lot of community service stuff on our own throughout the year," said Hansel. "We got the opportunity to come together as Iowa softball and make a difference in one family's Christmas. It's a big deal, and we were excited about it."
While the Hawkeyes do not get to meet the family that will benefit from their gift, they are grateful for the experience.
"I'm more than grateful for the opportunity to make a difference," Hansel said. "It's one small thing that we were able to do, and it only took a couple hours for us to go buy and wrap the gifts. I hope that we were able to make an impact on their holiday season.