Dec. 29, 2014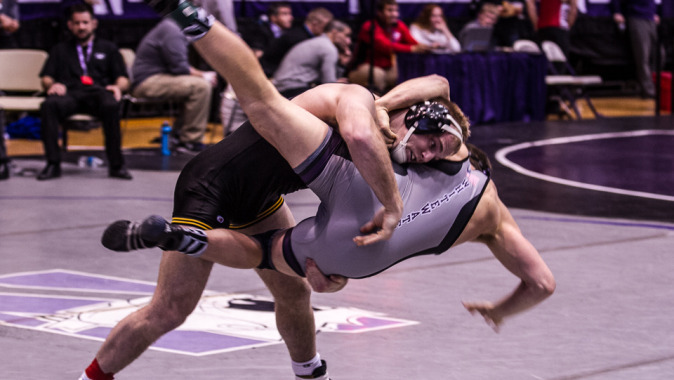 Dec. 29, 2014
EVANSTON, Ill. — The University of Iowa wrestling program closed out the first session of the 52nd Ken Kraft Midlands in first place with 47.5 team points. The Hawkeyes posted a 27-5 individual record and advanced 11 wrestlers to the quarterfinal matches tonight.
Twenty-one of Iowa's 27 wins were by bonus points. Third-seeded Sammy Brooks recorded two of Iowa's six falls and advanced to the quarterfinals at 184 for the third time in his career. Brooks has never advanced to the Midlands semifinals. He'll face Brown's Ophir Bernstein in the quarters.
Defending champion at 125, Thomas Gilman, collected an 11-1 major decision victory over Isaac Andrade of South Dakota State and finished the session with another major decision (14-5) over Columbia's Johnson Mai. Gilman entered the Midlands seeded first, initially seeded second behind Jesse Delgado (Illinois), who is not competing.
No. 3 seeded Cory Clark gained momentum after his major decision victory over Vincent Pizzuto (Eastern Michigan), 10-2. He went on to beat Illinois's Jered Cortez, wrestling unattached, 6-2, to advance to the quarterfinals for the third straight season.
Josh Dziewa started the session with a tech fall win over Nick Tighe (Binghampton), 17-1, and went on to record a 12-0 major decision victory over Columbia's Ryan Ponte. He finished the afternoon overcoming Jake Danishek (Indiana-unattached), 4-0. Dziewa is the number three seed at 141 pounds.
Brody Grothus, seeded fourth at 149, advances to the quarterfinals after a tech. fall over Cole Weaver, wrestling Indiana-unattached (15-0) and a major decision against Jake Williams of Cumber-unattached (12-4).
Also advancing at 149, No. 6 seed Brandon Sorenson defeated North Dakota's Mitchell Friedman by major decision, 14-5, and Gustavo Martinez (Grand View) 5-1.
Fifth-seeded Mike Kelly recorded a pair of decisions to ensure he advanced to the quarterfinals, beating Justin Alexander (Maryland) and Jake Danishek (Indiana-unattached), 4-1 and 5-2, respectively.
Nick Moore will make a quarterfinal appearance after a tech. fall 18-3, over Nate Stadeker of Grand View, and pinning Mark Mabry of Adams State at 4:18. Moore is the second-seed at 165 pounds.
Hawkeye senior Mike Evans and junior Nathan Burak, both seeded No.1 at their respective weights, found success during the first session. Evans won by decision, 10-3 over David Kocer of South Dakota, and went on to pin Nick Ferraro (University of Chicago) at 1:36. Burak, wrestling unattached, pinned his first opponent Rob Fitzgerald (Maryland) at 6:39. He then took on Anthony Abro (Eastern Michigan) and collected an 8-4 decision to advance.
Senior Bobby Telford, the No. 2 seed at heavyweight, began the day with a fall over Northern Illinois' Jake Cochran at 2:26. He finished the first session with decision against Dan Garwood of Virginia Tech to clinch a space in the quarterfinals.
Session II of the Midlands Championships begins at 7 p.m. (CT) tonight. Updated team standings and complete tournament brackets are available throughout the tournament at nusports.com and on trackwrestling.com.
SESSION I CHAMPIONSHIP BRACKET (# indicates tournament seed)
125 – #1 Thomas Gilman (IA) major dec. Isaac Andrade (South Dakota St.), 11-1
125 – #1 Thomas Gilman (IA) major decision Johnson Mai (Columbia), 14-5
133 – #3 Cory Clark (IA) major dec. Vincent Pizzuto (Eastern Mich.), 10-2
133 – #3 Cory Clark (IA) dec. Jered Cortez (Illinois-unat.), 6-2
141 – Topher Carton (IA) pinned Andrew Lenzi (Penn), 1:16
141 – #1 Mitchell Port (Edinboro) major dec. Topher Carton (IA), 15-5
141 – #3 Josh Dziewa (IA) tech fall Nick Tighe (Binghampton), 17-1
141 – #3 Josh Dziewa (IA) major dec. Ryan Ponte (Columbia), 12-0
141 – #3 Josh Dziewa (IA) dec. Brandon Wright (Grand View), 4-0
141 – #6 Todd Preston (Harvard) dec. Seth Gross (IA-unat.), 6-5
149 – #4 Brody Grothus (IA) tech. fall Cole Weaver (Indiana-unat.), 15-0
149 – #4 Brody Grothus (IA) major dec. Jake Williams (Cumber-unattached), 12-4
149 – #6 Brandon Sorenson (IA) major dec. Mitchell Friedman (N. Dakota), 14-5
149 – #6 Brandon Sorenson (IA) dec. Gustavo Martinez (Grand View), 5-1
157 – #11 T.C. Warner (Old Dominion) dec. #11 Edwin Cooper (IA), 1-8
157 – #5 Mike Kelly (IA) dec. Justin Alexander (Maryland), 4-1
157 – #5 Mike Kelly (IA) dec. Jake Danishek (Indiana-unat.), 5-2
165 – #2 Nick Moore (IA) tech. fall Nate Stadeker (Grand View), 18-3
165 – #2 Nick Moore (IA) pinned Mark Mabry (Adams State), 4:18
174 – #1 Mike Evans (IA) dec. David Kocer (S. Dakota), 10-3
174 – #1 Mike Evans (IA) pinned Nick Ferraro (University of Chicago), 1:36
174 – #10 Alex Meyer (IA) major dec. Wyatt Wilson (Indiana), 13-2
174 – #7 Frank Cousins (Wisconsin) dec. #10 Alex Meyer (IA), 8-6
184 – #3 Sammy Brooks (IA) pinned Daniel Olsen (Wheaton), 6:26
184 – #3 Sammy Brooks (IA) pinned Jayden DeVilbiss (Luther College), 2:14
197 – #1 Nathan Burak (IA-unat.) pinned Rob Fitzgerald (Maryland), 6:39
197 – #1 Nathan Burak (IA-unat.) dec. Anthony Abro (Eastern Michigan), 8-4
197 – Shane Siefert (UW-Whitewater) dec. Kris Klapprodt (IA), 9-8
285 – Gage Hutchison (Eastern Michigan) pinned Sam Stoll (IA-unat.), 0:51
285 – #2 Bobby Telford (IA) pinned Jake Cochran (Northern Ill.), 2:26
285 – #2 Bobby Telford (IA) dec. Dan Garwood (Virginia Tech), 6-1
CONSOLATION RESULTS
141 – Seth Gross (IA-unat.) tech. fall Nick Tighe (Binghamton), 22-6
141 – Jordan Laster (Princeton) dec. Seth Gross (IA-unat.), 4-7
141 – Topher Carton (IA) major dec. Jason Bing (Franklin & Marshall), 16-6
141 – Topher Carton (IA) tech fall Jacob Macololooy (Columbia), 22-7
157 – Francesco Fabozzi (Princeton) dec. Edwin Cooper (IA), 12-15
197 – Kris Klapprodt (IA) pinned Charles Kerkesner (Franklin & Marshall), 1:31
197 – Kris Klapprodt (IA) dec. Matt Idelson (Columbia), 10-5
285 – Sam Stoll (IA-unat.) sudden victory dec. Marcus Malecek (Air Force), 3-1
QUARTERFINAL MATCHUPS
125 -#1 Thomas Gilman (IA) vs. Ethan Lizak (Minnesota-unattached)
131 – #3 Cory Clark (IA) vs. #6 Danny Sabatello (Purdue)
141 – #3 Josh Dziewa (IA) vs. #6 Steven Rodrigues (Illinois)
149 – #4 Brody Grothus (IA) vs. #5 C.J. Cobb (Penn)
157 – #5 Mike Kelly (IA) vs. #4 Chad Walsh (Rider)
165 – #2 Nick Moore (IA) vs. #7 Adam Fierro (Cal-State, Bakersfield)
174 – #1 Mike Evans (IA) vs. #8 Chad Welch (Purdue)
184 – #3 Sammy Brooks (IA) vs. #6 Ophir Bernstein (Brown)
197 – #1 Nathan Burak (IA-unat.) vs. #8 Jared Haught (Virginia Tech)
285 – #2 Bobby Telford (IA) vs. #10 Garrett Ryan (Columbia)
CONSOLATON MATCHUPS
141 – Topher Carton (IA) vs. #11 Jeff Canfora (Penn)
174 – #10 Alex Meyer (IA) vs. Conner Lefever (Wabash-unattached)
197 – Kris Klapprodt (IA) vs. Tom Petersen (North Dakota)
285 – Sam Stoll (IA-unat.) vs. #7 Jake Henderson (Old Dominion)