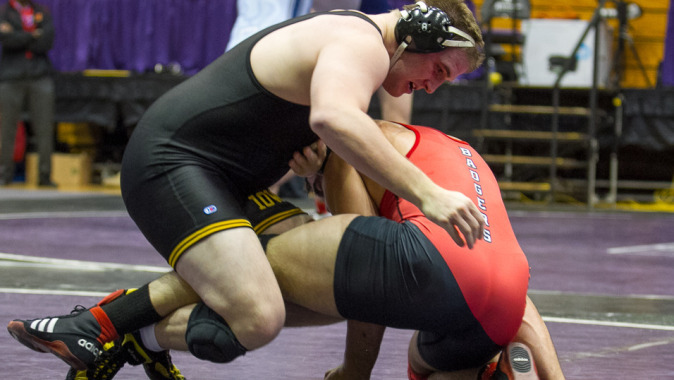 Jan. 5, 2015
IOWA CITY, Iowa — University of Iowa senior Bobby Telford was named USA Wrestling's Athlete of the Week after winning four matches against top 10 opponents in a span of six days. The sport's governing body announced the award Monday.
Telford won the Midlands 285-pound title on Dec. 30, knocking off No. 5 Connor Medbery (Wisconsin) in the semifinals and defeating then-top ranked Mike McMullan (Northwestern), 4-2, in the finals.
He earned a 6-2 win over No. 8 Billy Smith on Jan. 2 at Rutgers, and completed Iowa's come-from-behind dual win at Ohio State on Jan. 4 with a 4-0 shutout against No. 10 Nick Tavanello.
Telford climbed to No. 2 in the Jan. 5 WIN Magazine rankings, behind defending national champion Nick Gwiazdowski of N.C. State. He wrestles his fifth consecutive top 10 opponent on Sunday when he faces No. 4 Austin Mardsen of Oklahoma State. Telford is 1-0 all-time against Mardsen, a 2-1 decision last year in Iowa City.
The Hawkeyes and Cowboys meet Sunday at 2 p.m. (CT) in Stillwater, Oklahoma.