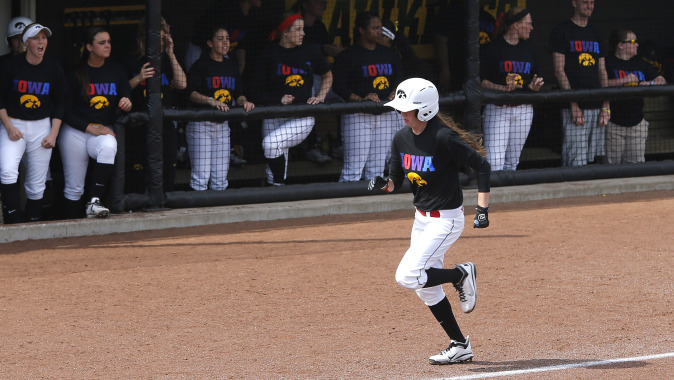 Jan. 6, 2015
Editor's Note: The following first appeared in the University of Iowa's Hawk Talk Daily, an e-newsletter that offers a daily look at the Iowa Hawkeyes, delivered free each morning to thousands of fans of the Hawkeyes worldwide.
By JIL PRICE
hawkeyesports.com
IOWA CITY, Iowa — The University of Iowa softball team understands the impact it can have in the local community and has made a year-long commitment to volunteer and give back. The Hawkeyes have adopted families during the holiday season each December, but are also active in other areas.
In the fall, the team identified organizations in the Iowa City area that they would be interested in working with, split into groups based on their interests, and started giving back. The five organizations the Hawkeyes are working with include Ronald McDonald House, Grant Wood AEA, Big Brothers Big Sisters, UI REACH, VA Hospital, and Hope Lodge.
"I like how our program reaches out in different areas," sophomore infielder Kara Misel said. "We really take it upon ourselves to get out into the community, get involved in different organizations, and bring it all together to raise awareness for all of them."
"It's important to give back to the community surrounding Iowa City because our fans come support us no matter what," senior infielder Megan Blank said. "It's the least we can do to give back to them."
Iowa softball's year of giving culminates during the regular season when the Hawkeyes will host Awareness Day on April 4 at Bob Pearl Field. The student-athletes will wear special uniforms and colors during their game against Illinois and run informative announcements on the video scoreboard with the aim of raising awareness for the organizations they have been working with throughout the year.
Members of each organization are invited to attend the game, throw out the first pitch, set up booths, and enjoy Hawkeye softball in action. It has become a fun experience for them to see the student-athletes who have helped them all year perform in their athletic arena.
"That's probably my favorite part," Misel said. "They get to come support us on the field, be a part of it, and see what we're all about."
"It's fun to see the looks on their faces because they're so excited to throw out the first pitch and be a part of what we do," Blank said. "They're just excited to be there. It's nice to see people we've been helping out in the community come and support us on game day. It's an honor, and we're lucky to be a part of it all."
Giving back has been a rewarding experience for the Hawkeyes and many have learned lessons from their experiences with these organizations that have translated into other areas of their lives.
"I've learned a lot of leadership and communication skills during my time as a volunteer at the Ronald McDonald House," Misel said. "It taught me how to step up, which has translated really well now that I am one of the team captains."
"This is my second year working with Grant Wood AEA," Blank said. "We go to Solon High School and have lunch with kids out there once a week. It's a good way for us to help them out. Kids with disabilities are no different than us. It's a blessing to get to know them.
"It has taught me a lot that translates to the real world. Everyone is special in their own way and you can't discount someone because they're different."