Jan. 17, 2015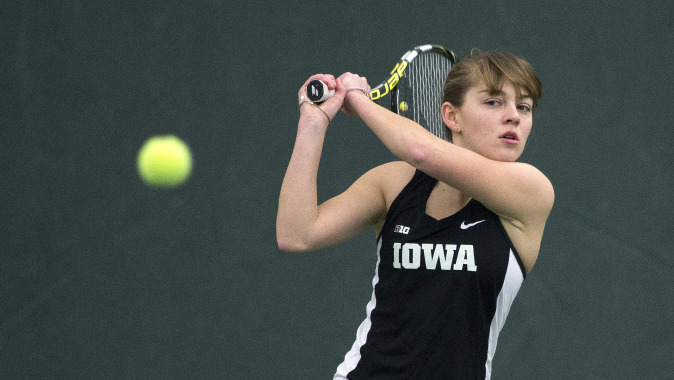 Jan. 17, 2015
ORLANDO, Fla. — The University of Iowa women's tennis team opened its spring schedule at the UCF Quad Tournament in Orlando, Florida on Saturday. The Hawkeyes collected a pair of singles victories and three doubles wins during the first day of competition.
"We did a good job of shifting momentum and finishing in doubles. Singles was a bit more up and down," UI head coach Katie Dougherty said. "We struggled at times to finish sets and matches and put ourselves in a good position and then let opponents back in. It's a good starting point for us today and another great opportunity tomorrow."
Senior Shelby Talcott recorded one of the two singles triumphs, defeating UCF's Caroline Eberhart 3-6, 7-5, 6-0. Talcott teamed up with junior Annette Dohanics to beat Illinois' Alexis Casati and Jerricka Boone 6-3.
Hawkeye newcomer Zoe Douglas made her presence known in her Iowa debut by collecting both a singles and doubles victory. Douglas overcame Annika Hepp (UCF), 6-1, 4-6, 6-1. In doubles play, Douglas and senior Katie Zordani struggled against Louise Kwong and Grace Tapak (Illinois), falling 6-1.
Senior Morven McCulloch and freshman Anastasia Reimchen clicked as a pair, defeating Baillon/Kopinski (Illinois), 7-5.
Senior Ellen Silver and sophomore Aimee Tarun were the third doubles team to collect a victory beating out Emily Barretta and Jade Hilton (Illinois), 6-4.
The Hawkeyes will compete again on Sunday at 9 a.m. (CT), going against FIU in doubles play and meeting Big Ten rival Illinois in singles. Iowa will round out the tournament on Monday, taking on UCF and FIU in doubles and singles competition, respectively.
Singles: Iowa vs. UCF
Shelby Talcott (Iowa) def. Caroline Eberhart (UCF), 3-6, 7-5, 6-0
Cortney Cesarini (UCF) def. Morven McCulloch (Iowa), 6-1, 6-2
Sofia Baptista (UCF) def. Anastasia Reimchen (Iowa), 7-5, 4-6, 6-4
Kennan Johnson (UCF) def. Annette Dohanics (Iowa), 6-1, 6-4
Clare Mendell (UCF) def. Katie Zordani (Iowa), 6-3, 6-2
Monica Matlas (UCF) def. Ellen Silver (Iowa), 6-3, 6-2
Zoe Douglas (Iowa) def. Annika Hepp (UCF), 6-1, 4-6, 6-1
Doubles: Iowa vs. Illinois
Talcott/Dohanics (Iowa) def. Casati/Boone (Illinois), 6-3
McCulloch/Reimchen (Iowa) def. Baillon/Kopinski (Illinois) , 7-5
Kwong/Tapak (Illinois) def. Douglas/Zordani (Iowa) , 6-1
Silver/Tarun (Iowa) def. Barretta/Hilton (Illinois), 6-4