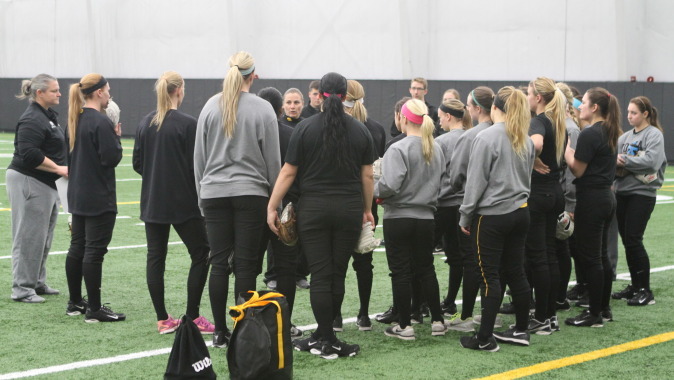 Jan. 17, 2015
Editor's Note: The following first appeared in the University of Iowa's Hawk Talk Daily, an e-newsletter that offers a daily look at the Iowa Hawkeyes, delivered free each morning to thousands of fans of the Hawkeyes worldwide.
By JIL PRICE
hawkeyesports.com
IOWA CITY, Iowa — The University of Iowa softball program began the 2015 regular season with official practice this week. The Hawkeyes started Monday and continue practice through the weekend without distractions, as student-athletes do not start class until Jan. 20.
"We have a good energy this year and everyone is focused on a common goal of being successful," sophomore captain Kaitlyn Mullarkey said. "Everyone wants to work together to achieve that. Everyone was picking each other up all week, and it was great to see.
"Consistency is the key to being great. If we keep our energy consistent throughout the season, it will help us do a lot of good things."
While getting reps in the cage and in the new Iowa Turf facility was important, fifth-year head coach Marla Looper also made sure the team worked on identifying and solidifying a strong mentality to carry throughout the season.
Guest speakers, including sport psychologist Dr. Bhrett McCabe, and Iowa coaches Tom Brands, Katie Dougherty, Jan Jensen, Rick Heller, and Bond Shymansky, addressed the team about the importance of the mental aspect of the game, taking pride in what you do, and rising to meet the challenges of competition.
Their messages were well received by the Hawkeyes.
"We were nervous and excited because we weren't sure what this week would be like for us," redshirt junior Holly Hoffman said. "When Dr. McCabe came in it was awesome. Everyone came together and was supportive of each other when we were challenged. We're going to carry that into the season, and I couldn't be more excited after what we did together this week.
"The mental aspect of the game will be essential for us this year. That's one piece we've probably been missing in the past, and it will definitely be an advantage for us."
"It's exciting to be back, and coming in as a freshman with this group is an honor," freshman Ashley Yoways said. "When all the other Iowa coaches came in, they gave us a lot of things to think about and really boosted our confidence."
Looper was appreciative of the impact her colleagues had on the team and is excited to see how the group carries their messages with them throughout the spring slate.
"We have some phenomenal coaches in our athletics department," Looper said. "We're a big family. We might be kind of splintered here and there at times because we're all in our own world trying to compete and be our best, but those coaches took the effort to come share with us, which means a lot to me and to our team."
The Hawkeyes open the 2015 regular season with five games at the UNI Dome Tournament from Feb. 6-8 at the UNI-Dome in Cedar Falls, Iowa.