Jan. 19, 2015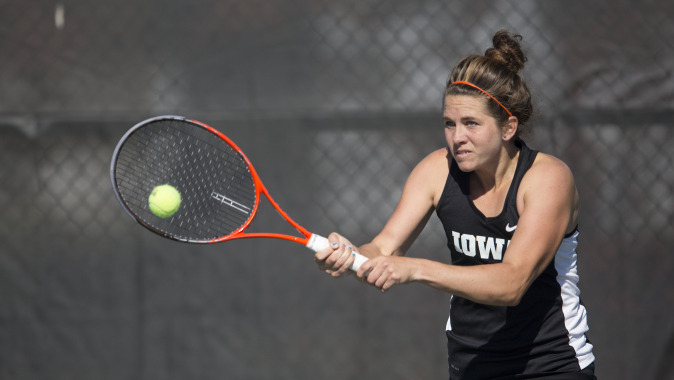 Jan. 19, 2015
ORLANDO, Fla. — The University of Iowa women's tennis team finished strong at the UCF Quad tournament gathering four singles and two doubles victories. The Hawkeyes look to capitalize on this high note as they head into their dual schedule.
"We rebounded well today in singles and doubles," UI head coach Katie Dougherty said. "Across the board we played our best tennis today and we were much more confident on the deuce points and executed better."
Seniors Shelby Talcott and Ellen Silver found singles success during the final day in Orlando, Florida. Talcott defeated FIU's Yana Koroleva, 6-4, 6-2, while Silver overcame Garce Tapak (Illinois), 6-4, 7-5. Junior Annette Dohanics teamed up with Talcott to earn a doubles victory, topping Sofia Baptista and Cortney Cesarini (UCF), 7-5.
Hawkeye newcomer Zoe Douglas continued her debut at Iowa strong by beating Valentina Briceno (FIU), 6-4, 7-6 (0-4). Douglas and her doubles partner Katie Zordani struggled against Annika Hepp and Monica Matias (UCF), falling 6-3.
Sophomore Aimee Tarun collected the fourth singles win of the day, defeating Illinois' Emily Barretta, 3-6, 6-2, 10-4. Tarun and Silver found a rhythm as a duo, recording a 6-4 victory over Illinois' Jade Hilton and Julia Jamieson.
"This was a great tournament for us to get matches against good teams and help prepare us for the dual match season," Dougherty added. "I'm pleased with how the team came out today and battled, and we're really looking forward to UNI in two weeks."
Iowa will return to action kicking off dual competition at home taking on Northern Iowa. Competition is set to begin at 12:00 p.m. (CT) inside the Hawkeye Tennis and Recreation Complex.
Singles: Iowa vs. FIU/Illinois
(Iowa) def. Yana Koroleva (FIU), 6-4, 6-2
Carlotta Orlando (FIU) def. (Iowa), 6-2, 6-2
Nerma Caluk (FIU) def. (Iowa), 6-3, 6-2
Nina Nagode (FIU) def. (Iowa), 3-6, 6-2, 10-6
Kaitlin Brozovich (FIU) def. (Iowa), 7-5, 5-7, 10-7
(Iowa) def. Valentina Briceno (FIU), 6-4, 7-6 (0-4)
(Iowa) def. Grace Tapak (Illinois), 6-4, 7-5
(Iowa) def. Emily Barretta (Illinois), 3-6, 6-2, 10-4
Doubles: Iowa vs. UCF/Illinois
Annette Dohanics/Shelby Talcott (Iowa) def. Sofia Baptista/Cortney Cesarini (UCF) 7-5
Caroline Eberhart/Kennan Johnson (UCF) def. Morven McCulloch/Anastasia Reimchen (Iowa) 7-5
Annika Hepp/Monica Matias (UCF) def. Zoe Douglas/Katie Zordani (Iowa) 6-3
Ellen Silver/Aimee Tarun (Iowa) def. Jade HIlton/Julia Jamieson (Illinois) 6-4