Jan. 22, 2015
Weekly Release

THIS WEEK:
The University of Iowa men's tennis team opens its spring season Sunday, with a pair of nonconference matches. The Hawkeyes take on Western Michigan at 11 a.m. and follow with a match against Western Illinois, slated to start at 5 p.m. Both matches will take place inside the Hawkeye Tennis & Recreation Complex (HTRC).
HAWKEYES RANKED:
Iowa's doubles team of Matt Hagan and Dominic Patrick are ranked 31st in the initial spring ITA national rankings. Hagan and Patrick are the fourth-highest ranked pair in the Big Ten. Hagan and Patrick posted a 4-1 record in the fall, including winning four straight matches at the Big Ten Indoor Championships to become the conference's doubles champions. The Hawkeye tandem became only the third pair in school history to accomplish the feat and first since David Nairn/John Nadig in 1960 (third flight); James Andrews/Robert Potthast were the first team to win a Big Ten Doubles Championship in 1958 (first flight). Hagan and Patrick become Iowa's first doubles team to start the spring season ranked since 2012, when Marc Bruche and Will Vasos were ranked 59th. Hagan is also among the ITA singles rankings, coming in at 116th. The native of Omaha, Nebraska, becomes the first Hawkeye to be ranked in the initial spring season rankings since Marc Bruche was ranked 93rd in 2012.
HAWKEYE NEWCOMERS:
Iowa welcomes four freshmen to the squad: Jake Jacoby (Little Rock, Arkansas), Stieg Martens (Roeselare, Belgium), Josh Silverstein (Great Neck, New York), Lefteris Theodorou (Athens, Greece). Jacoby was a four-time Arkansas state champion. Silverstein was a five-time USTA National Open doubles champion and had success on the junior tournament circuit this past summer. Theodorou, a Greek National champion, was the No. 1 Greek player ranked in U14, U16, and U18. Martens joined the Hawkeye roster in January after a successful prep career in Belgium.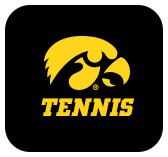 INTERIM HEAD COACH Ross Wilson:
Ross Wilson, a former two-time NCAA All-American and three-time ITA national doubles champion at Ohio State, is the interim head men's tennis coach after the announcement of Steve Houghton's retirement on Sept. 8. Wilson served as the team's assistant coach last season. Wilson, the 2012 ITA National Assistant Coach of the Year and ITA Central Region Assistant Coach of the Year, came to Iowa after serving as assistant coach at nationally-ranked San Diego during the 2012-13 season. Wilson was a standout at national power Ohio State from 2002-06. He was a two-time NCAA All-American and three-time ITA national doubles champion. He broke the Buckeyes' overall career wins record, career doubles wins record and single season doubles wins record in 2006.
WILSON ON SPRING OPENER:
"The guys have been working hard the past 10 days. They've had good practices and they're ready to play against other teams. It will be exciting to play against Western Michigan, they are a team that always wins their conference or are in the conference championship. They win a lot of matches and have a lot of good players on their team. We are expecting a competitive match."
ASSISTANT COACH Ty Schaub ON SPRING OPENER:
"The team will be excited for their first match and they are going to come out with a lot of energy. We want to see how they are going to react to their first dual match. We'll be looking for an all-around good effort and our guys will come out ready to play."