Jan. 25, 2015
Photo Gallery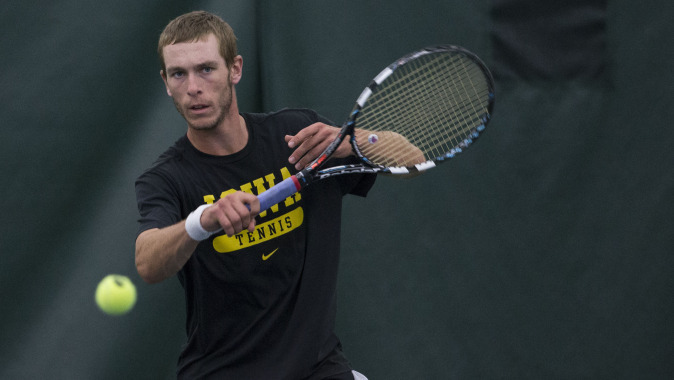 IOWA CITY, Iowa — The University of Iowa men's tennis team (2-0), opened the spring season Sunday with dual meet sweeps over Western Michigan and Western Illinois at the Hawkeye Tennis and Recreation Complex.
"We knew the match against Western Michigan was going to be tough. The guys came out fired up. We were nervous at the beginning and we got down at two and three doubles quick, but they were able to hang in there and compete well coming back at second doubles and winning it. The third doubles, we came back making a lot of returns and playing well. Singles were tough, our guys were up breaks and down breaks. It was an up-and-down match, but we competed well and once we got ahold of the matches we were able to finish them off and do well," said interim head coach Ross Wilson.
The Hawkeyes started the afternoon strong picking up a victory over Western Michigan, 6-1. The match opened with Iowa's 31st-ranked doubles team of Matt Hagan and Dominic Patrick registering a victory over the Broncos' Steiner/Greiner (6-4). Lefteris Theodorou and Stieg Martens were able to follow the winning trend notching another doubles win for the home squad, defeating Kecic/Beckwith (7-6, 7). Jake Jacoby and Josh Silverstein made it a clean sweep posting a 7-5 victory over Payne/Hamilton.
In singles, Iowa opened with two straight wins at the No. 3 and No. 2 positions. Theodorou took the first match in straight sets (6-2, 7-5) over Andrew Cahn, while Patrick made it two in a row for the Hawkeyes, also winning in straight sets (6-3, 6-3). The Hawkeyes dropped their next match before Jacoby sealed the victory for Iowa in come-from-behind fashion. The freshman found himself down in the first set (6-1) before rallying back and taking the next two (6-3, 6-2). Martens won his debut singles match in three sets (1-6, 6-2, 6-4) before 116th-ranked Hagan finished the action with another victory over Jefta Kecic at the No. 1 position.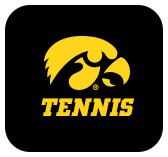 "As a freshman and it being my first dual match I was kind of nervous coming out. After that first set I settled down and got more into my game. Once I got going with the atmosphere and the fans cheering it helped to change the match. I never gave up and kept attacking, once I got a break to get up 4-3 I felt I could win that second set and carry that momentum into the third," said Jacoby.
Against Western Illinois, Iowa took all three matches on the doubles court before registering six straight singles victories. Jacoby and Silverstein both earned wins in straight sets (6-0, 6-0) before Andres Estenssoro made it three straight for the Hawkeyes, beating Jacob Sanders (6-0, 6-1). Martens tallied his second singles win as a Hawkeye, beating Nikola Pavlovic (6-4, 6-0) to make it four straight singles wins. Theodorou completed the singles sweep for Iowa with a win in straight sets (6-4, 6-3). Patrick won his match at the No. 2 position via default.
Up next for the Hawkeyes is a trip to Ithaca, New York to take on Cornell University on Jan. 30.
Iowa 6, Western Michigan 1
Singles
No. 116 Matt Hagan (UI) def. Jefta Kecic (WMU): 7-5, 1-6, 6-3
Dominic Patrick (UI) def. Maik Steiner (WMU): 6-3, 6-3
Lefteris Theodorou (UI) def. Andrew Cahn (WMU): 6-2, 7-5
Ruben Greiner (WMU) def. Josh Silverstein (UI): 6-2, 6-4
Stieg Martens (UI) def. Matt Hamilton (WMU): 1-6, 6-2, 6-4
Jake Jacoby (UI) def. Jimmy Beckwith (WMU): 1-6, 6-3, 6-2
Doubles
No. 31 Hagan/Patrick (UI) def. Steiner/Greiner (WMU): 6-4
Theodorou/Martens (UI) def. Kecic/Beckwith (WMU): 7-6 (7)
Jacoby/Silverstein (UI) def. Payne/Hamilton (WMU): 7-5
Iowa 7, Western Illinois 0
Singles
Lefteris Theodorou (UI) def. Christoph Haertel (WIU): 6-4, 6-3
Dominic Patrick (UI) def. Chris Brunch (WIU): ret
Stieg Martens (UI) def. Nikola Pavlovic (WIU): 6-4,6-0
Josh Silverstein (UI) def. Surya Sawhney (WIU): 6-0, 6-0
Jake Jacoby (UI) def. Ross Smith (WIU): 6-0, 6-0
Andres Estenssoro (UI) def. Jacob Sanders (WIU): 6-0, 6-1
Doubles
Hagan/Hallestrand (UI) def. Pavlovic/Haertel (WIU): 6-1
Theodorou/Martens (UI) def. Bunch/Sawhney (WIU): 6-0
Jacoby/Silverstein (UI) def. Smith/Sanders (WIU): 6-0