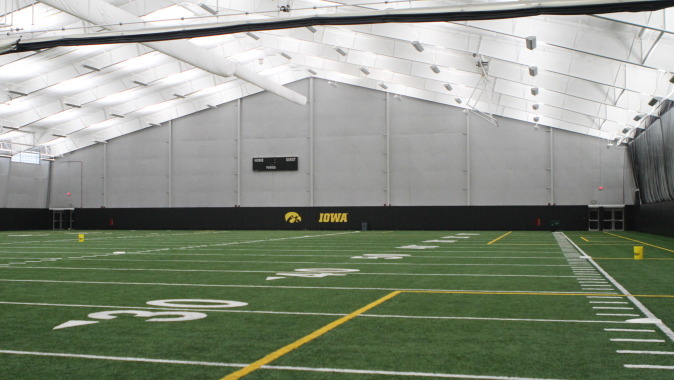 Jan. 27, 2015
Editor's Note: The following first appeared in the University of Iowa's Hawk Talk Daily, an e-newsletter that offers a daily look at the Iowa Hawkeyes, delivered free each morning to thousands of fans of the Hawkeyes worldwide.
By JIL PRICE
hawkeyesports.com
IOWA CITY, Iowa — After managing various practice times at football's Indoor Practice Facility in the past, the University of Iowa baseball and softball teams finally have practice facilities to call home.
Both programs have benefited from the addition of the new indoor Iowa Turf facility, located at the Hawkeye Tennis and Recreation Complex, and the Jacobson Hitting Facility, located in football's former weight room.
"It says a lot that Iowa is investing in the baseball and softball practice facilities," said UI head softball coach Marla Looper. "Winning starts with training. We've been fortunate to go into the Indoor Practice Facility in the past, but never had a place to call our own.
"Having the Iowa Turf facility alleviates some of the scheduling issues we had. We've been limited in where we could be and when we could be there in the past, and now we aren't."
While the HTRC Iowa Turf facility has enabled the programs to have consistency in team practices, the Jacobson hitting cages have allowed something even more beneficial; a place for student-athletes to take extra reps at any time.
"We've been very fortunate to have the Jacobson facility," Looper said. "Our kids have been able to go on their own and get extra training. Now that our student-athletes have that freedom, it's allowed them to relax in training and be more productive in our practices."
Four drop-down batting cages — two, 60-foot and two, 40-foot — are included in the Jacobson facility as well as additional nets for tee work. Self-feeding machines, tees, equipment, and areas for front toss are also available for the student-athletes to utilize in their training.
On top of the new indoor training options, the Hawkeyes have also benefitted from the installation of an AstroTurf surface at Duane Banks Field, the home of Iowa baseball. With temperatures in the mid-40s last week, head baseball coach Rick Heller shared the wealth, allowing the softball team to train outside at their facility.
"Baseball was nice enough to let us on their field when the sun was out last week," Looper said. "We're fortunate coach Heller and his staff are willing to let us do that.
"Any time programs and teams can work together in the department, we're all going to benefit. Rick and I know we're in the same boat together; coaching teams in the north and it is winter. We've been able to work well together and our kids enjoyed being out on their turf. Taking advantage of those warm days in January will be big for us heading into the season"
Iowa softball opens the 2015 season with a five-game slate at the UNI Dome Tournament in Cedar Falls, Iowa. The Hawkeyes will face Drake, UNI, Southern Utah, North Dakota State, and Green Bay in the three-day tournament.