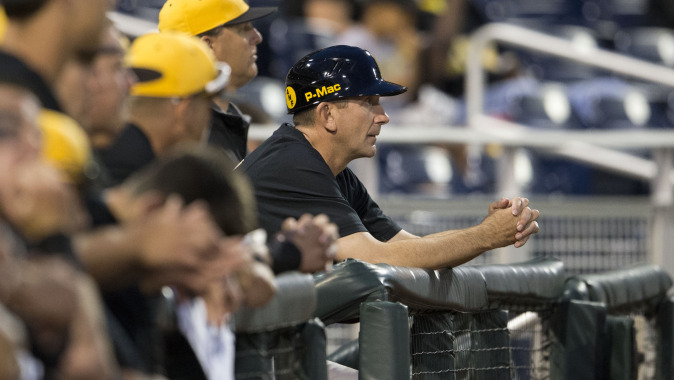 Jan. 27, 2015
CEDAR RAPIDS, Iowa — University of Iowa head baseball coach Rick Heller was named the Iowa High School Baseball Coaches Association's four-year Coach of the Year at the 47th-annual IHSBCA awards banquet Jan. 17.
In his first season in Iowa City, Heller led the Hawkeyes to a 30-23 overall record, a Big Ten Tournament berth and conference tournament win. The 30 victories were the most by a first-year head coach in school history and just the third 30-win season since 1993.
Heller won his 700th career game in a 13-1 rout of Georgetown on March 15 at the Snowbird Baseball Classic in Florida. The Hawkeyes also took 2-of-3 games from Nebraska to open the Big Ten regular season — Iowa's first conference-opening series win since 1998 — and won 2-of-3 games over Minnesota for the first time since 2005.
Under Heller's direction, Iowa became one of the most potent offensive teams in the Big Ten in 2014. The Hawkeyes led the conference in four offensive categories (batting average, hits, runs and on-base percentage) and ranked second in four more (slugging percentage, RBIs, home runs and total bases). Iowa finished with 23 home runs — a season after the team had two long balls in 49 contests.
Heller coached five student-athletes to All-Big Ten recognition, the most for the program since 2007. Junior shortstop Jake Yacinich garnered first-team All-Big Ten honors after ranking second in the league in batting average and steals. He was the first Iowa first-teamer since 2009.
Iowa had three players selected in the 2014 Major League Baseball Draft, including Yacinich, who was taken in the eighth round by the Los Angeles Angels of Anaheim.
Heller is a member of the IHSBCA, and he was inducted into the association's Hall of Fame in 2008.
The Hawkeyes open the 2015 season at the Snowbird Classic from Feb. 13-15. Iowa will face Kansas State, Saint Louis, and George Mason in Port Charlotte, Florida.