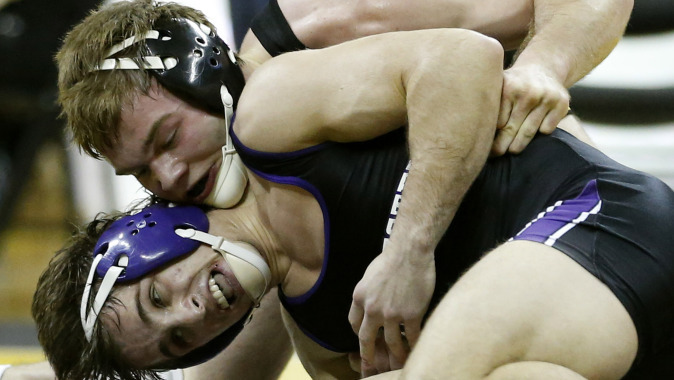 Jan. 27, 2015
IOWA CITY, Iowa — University of Iowa redshirt freshman Brandon Sorensen has been named Big Ten Wrestler of the Week for the second time this season, the conference office announced Tuesday.
Sorensen, a native of Cedar Falls, Iowa, defeated defending NCAA champion and previously undefeated Jason Tsirtsis of Northwestern, 3-2, in double overtime on Jan. 23. Sorensen, then ranked No. 3, rode top-ranked Tsirtsis for all 30 seconds in the second tiebreaker to win, 3-2.
He leads Iowa with 24 wins, including six major decisions and five falls, and his only two losses of the year have been 3-2 setbacks to teammate Brody Grothus and current No. 1 Dave Habat of Edinboro.
Sorensen climbed to No. 2 in the national rankings. He is the only Division I wrestler in the country with wins over two reigning NCAA finalists. Two weeks before his 3-2 overtime win over Tsirtsis, he defeated NCAA runner-up Josh Kindig, 6-1, on Oklahoma State's home mat.
The weekly honor is the second of his career and the third for Iowa this season. Sorensen shared the conference honor Jan. 13 after defeating Kindig. Bobby Telford earned league recognition Dec. 31.
The top-ranked Hawkeyes (10-0, 5-0) return to action Friday at No. 2 Minnesota (10-0, 6-0). The dual will be televised by BTN at 6 p.m. (CT).