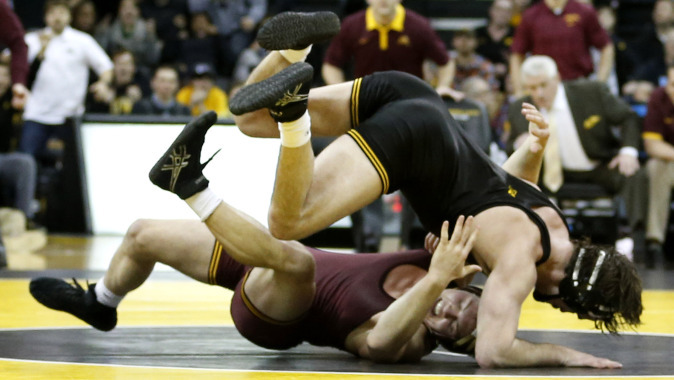 Jan. 29, 2015
Editor's Note: The following first appeared in the University of Iowa's Hawk Talk Daily, an e-newsletter that offers a daily look at the Iowa Hawkeyes, delivered free each morning to thousands of fans of the Hawkeyes worldwide. To receive daily news from the Iowa Hawkeyes, sign up HERE.
By DARREN MILLER
hawkeyesports.com
IOWA CITY, Iowa — If you could put a number to the phrase "skin of your teeth," it appears to be ¾ of a point.
At least it is when you use the expression in context of the college wrestling rivalry between seniors Mike Evans of Iowa and Logan Storley of Minnesota.
Evans, undefeated at 18-0 and ranked No. 2 in the nation at 174 pounds, faces Storley, 20-2 and ranked No. 4, for a fifth time Friday when the top-ranked Hawkeyes (10-0 overall, 5-0 Big Ten Conference) travel to No. 2 Minnesota (10-0, 6-0), in Williams Arena.
Storley prevailed in three meetings during the 2012-13 season by scores of 4-3, 3-1, and 3-2. Evans won the only head-to-head bout in 2014, 2-1 in overtime. Combined, Storley holds a minuscule three-point edge over Evans in four matches.
"All of them have been close, all of them have been a fight," Evans said. "He has come out on top three times by the skin of his teeth, I came out once by the skin of my teeth. It's going to be a dog fight again. To beat him I have to put him down."
Nearly as close as their match scores is their placing at the NCAA Championships. Storley is a three-time All-American (third in 2014, fourth in 2013, sixth in 2012) and Evans is a two-time All-American (sixth in both 2014 and 2013).
Last season in Carver-Hawkeye Arena, Evans tied the team score, 12-12, by escaping in the first tiebreak period and then riding Storley for 30 seconds. The Gophers won two of the next three bouts to win the dual, 19-15.
| | |
| --- | --- |
| | "We're going to go into their arena and we're going to hear a bunch of boos and we're going to hear a huge crowd and then we're going to shut them up. There is nothing better than that." |
That was the 99th meeting between the schools. Friday will be No. 100 — Iowa leads 70-28-1 — and it will be close.
"There will be a lot of good matchups," UI head coach Tom Brands said. "We believe in our guy. (174) is a big match for them, too. We have a guy there who likes to back up the hype."
During career-best 18-match winning streak, only four of Evans' matches have been within four points. He has compiled four falls, four technical falls, and two major decisions. Twelve of the wins have come away from home, including a 16-1 technical fall over No. 18 Jordan Rogers of Oklahoma State in Gallagher-Iba Arena. Williams Arena will be just as hostile.
"We're going to go into their arena and we're going to hear a bunch of boos and we're going to hear a huge crowd and then we're going to shut them up," Evans said. "There is nothing better than that."
Since Evans and Storley have been in the varsity lineup, the series between the Hawkeyes and Gophers has been nearly as tight as results of the battles at 174. Minnesota holds a 3-2 edge in dual meets since 2011-12; during that span the Gophers have finished second, third, and second at the NCAA Championships, while Iowa has been third, fourth, and fourth.
"I like a little extra pressure and a little extra incentive to get up for it," Evans said. "But it's Minnesota, how much incentive do you need?"
Iowa has won 14 consecutive duals with its last loss Jan. 25, 2014 against — you guessed it — Minnesota. The Gophers have won 17 in a row.
"There is still a lot of wonderment, what does a dual meet mean?" Brands said. "It is everything. It's the next thing on the schedule, your next test, your next assignment, your next mission. It's a big deal and it's a big deal to both programs."
Action begins at 6 p.m. (CT) with BTN televising the dual.