Jan. 30, 2015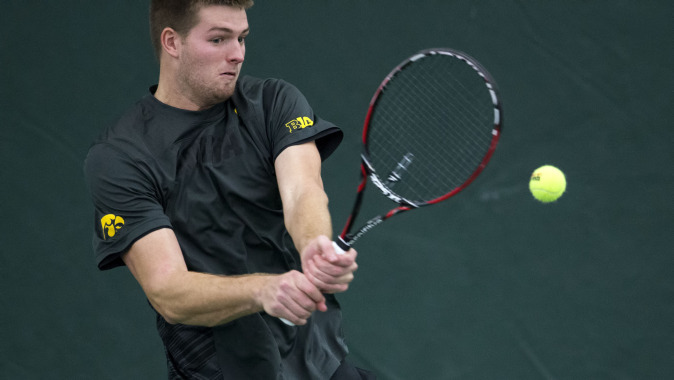 ITHACA, New York — The University of Iowa men's tennis team (2-1), suffered its first loss of the season Friday evening in a close match to the 65th-ranked Cornell University Big Red, 4-2, at the Reis Tennis Center.
Iowa's 31st-ranked doubles team of Matt Hagan and Dominic Patrick got things rolling for the visitors gaining the edge over Cornell's Casares/Vrabel (6-3) to improve to 2-0 in the spring campaign. Hawkeye freshmen Lefteris Theodorou and Stieg Martens, playing at the No. 2 position, lost a close match to Fleck/Sinclair, 7-6(7). Jake Jacoby and Josh Silverstein faced Vinti/Nguyen in the third doubles bout, but fell (6-2), losing the double point to the Big Red.
"Dominic Patrick and Matt Hagan led the team tonight taking control of their doubles match early and both playing well in singles," said UI head coach Ross Wilson.
In singles, Hagan, ranked No. 116 nationally, was able to take care of business registering a victory over Stefan Vinti in straight sets (7-5, 7-5). Patrick set his sights on a victory as he squared off against the Big Red's Bernardo Casares Rosa. The junior split the first two sets before the match was abandoned.
Theodorou faced Sam Fleck in a battle that went three sets but the freshman could not hold on after splitting the first two sets and was outlasted (3-6, 6-2, 3-6). Jacoby ended the night on a positive note for Iowa defeating Dylan Brown, 6-4, 7-6(3).
"We lost a tough match tonight but we have a really young team and we need to learn from this and get ready for another battle against Yale on Sunday," said Wilson.
Iowa will look to rebound from tonight's defeat Sunday when it faces the Yale Bulldogs in New Haven, Connecticut.
Cornell 4, Iowa 2
Singles
No. 116 Matt Hagan (UI) def. Stefan Vinti (CU): 7-5, 7-5
Bernardo Casares Rosa (CU) vs. Dominic Patrick (UI): 7-5, 3-6, 2-1 (DNF)
Sam Fleck (CU) def. Lefteris Theodorou (UI): 6-3, 2-6, 6-3
Colin Sinclair (CU) def. Stieg Martens (UI): 6-2, 6-3
Chris Vrabel (CU) def. Josh Silverstein (UI): 6-1, 6-4
Jake Jacoby (UI) def. Dylan Brown (CU): 6-4, 7-6(3)
Doubles
No. 31 Hagan/Patrick (UI) def. Casares/Vrabel (CU): 6-3
Fleck/Sinclair (CU) def. Theodorou/Martens (UI): 7-6(7)
Vinti/Nguyen (CU) def. Jacoby/Silverstein (UI): 6-2