Jan. 31, 2015
Photo Gallery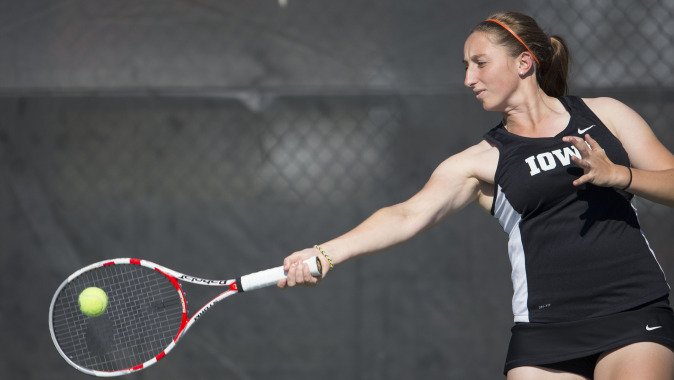 Jan. 31, 2015
Box Score

IOWA CITY, Iowa — The University of Iowa women's tennis team opened its dual season with a 7-0 sweep against the Northern Iowa Panthers at home on Saturday afternoon. This is the second year in a row the Hawkeyes have swept UNI 7-0 in their home opener, increasing the all-time record against the Panthers to 9-0 in Iowa's favor.
"I think we competed well," said UI head coach Katie Dougherty. "I think UNI is a pretty good team and they did a nice job pushing us. They're great fighters and we're definitely happy to come away from today with the win."
Senior Morven McCulloch and partner Anastasia Reimchen gathered the first doubles win of the dual, defeating Erica Medlin and Astrid Santos, 6-2.
The pair found success as individuals as well. McCulloch showed her strength collecting a 6-2, 6-0 win over Jieke Stroobant, while Reimchen took it to the wire with a 6-4, 7-6 (10-8) victory against Elvira Lopez.
"I think all of us were a little nervous going into doubles since it was the first back," said McCulloch of the dual outcome. "After we got the nerves out everyone came out and everyone was getting pumped up so the energy in here was really great."
Shelby Talcott and Annette Dohanics teamed up to take on Elvira Lopez and Jieke Stroobant in the No. 1 doubles match. Talcott and Dohanics fell behind 4-0 before fighting their way back to make the score 5-3 heading into the final set. The pair ultimately fell 6-3 to Northern Iowa.
Dohanics took on Gisela Kemper in singles play, beating out the freshman 6-3, 6-2. It was another tight match for Talcott as she edged out Erica Medlin, 6-3, 6-4 in the No. 1 singles match.
Seniors Ellen Silver and Katie Zordani battled it out with Northern Iowa's Gisela Kemper and Sydney Wolfe, being tied twice during the match at fours and at fives before the Hawkeyes pulled ahead to win 7-5.
Silver had a dominating start to the spring dual schedule, adding to her doubles success with a 6-0, 6-1 singles victory over Sydney Wolfe.
"It felt really good to be back," Silver said as she smiled. "I'm really glad to be playing and we've been practicing really hard so we were pretty confident coming into today."
It was a close match for Zordani as she headed into the third set with Astrid Santos after splitting a pair of sets 2-6, 7-5 in singles play. Santos medically forfeited the match after what appeared to be an ankle injury, handing the win to Zordani.
Iowa newcomer Zoe Douglas competed in an exhibition singles match against UNI's Savanna Hunt, tallying a 6-2, 6-1 victory over the fellow freshman.
"UNI was a good test, but the Cy-Hawk series is huge for us," Dougherty noted. "We're really promoting that as one of our biggest home events and it feels good to get one, but we still have a lot of work to do in practice this week and I'm really looking forward to next weekend."
The Hawkeyes return to action on Friday Feb. 6 as they host the Iowa State Cyclones. The dual will contribute to the annual Cy-Hawk series and is set to begin at 6 pm (CT) at the Hawkeye Tennis and Recreation Complex.
SINGLES RESULTS
1. Shelby Talcott (Iowa) def. Erica Medlin (Northern Iowa), 6-3, 6-4
2. Anastasia Reimchen (Iowa) def. Elvira Lopez (Northern Iowa), 6-4, 7-6
3. Morven McCulloch (Iowa) def. Jieke Stroobant (Northern Iowa), 6-2, 6-0
4. Katie Zordani (Iowa) win by forfeit Astrid Santos (Northern Iowa), 6-4, 7-6, medical forfeit
5. Annette Dohanics (Iowa) vs. Gisela Kemper (Northern Iowa), 6-3, 6-2
6. Ellen Silver (Iowa) def. Sydney Wolfe (Northern Iowa), 6-0, 6-1
Exb. Zoe Douglas (Iowa) def. Savanna Hunt (Northern Iowa), 6-2, 6-1
DOUBLES RESULTS
1. Lopez/Stroobant (Northern Iowa) def. Talcott/Dohanics (Iowa), 6-3
2. McCulloch/Reimchen (Iowa) def. Medlin/Santos (Northern Iowa), 6-2
3. Zordani/Silver (Iowa) def. Wolfe/Kemper (Northern Iowa), 7-5