Feb. 1, 2015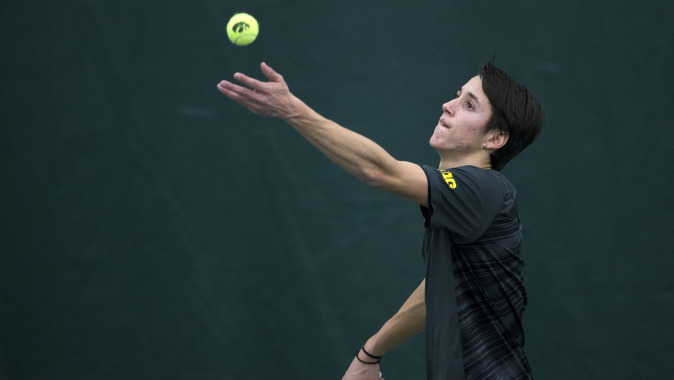 NEW HAVEN, Conn. — The University of Iowa men's tennis team (3-1), was able to bounce back with a 5-2 victory over the Yale Bulldogs Sunday afternoon at the Cullman-Heyman Tennis Center.
Iowa came out prepared right out of the gates as they took 2-of-3 doubles matches to secure the doubles point. The Hawkeyes' 31st-ranked doubles team of Matt Hagan and Dominic Patrick gave Iowa a strong start registering a victory over Svenning/Wang (6-4) improving to 3-0 in the spring campaign. Lefteris Theodorou and Stieg Martens, playing at the No.2 position for the second straight match, also grabbed a win defeating Faierman/Lu (7-5).
In singles, Hagan, ranked No. 116 by the Intercollegiate Tennis Association, was upset by Tyler Lu falling in straight sets (6-3, 7-6(1)). Patrick and Theodorou followed up with wins at the Nos. 2 and 3 positions. Patrick outlasted Ziqi Wang in a close three-set battle (3-6, 6-4, 6-3), while Theodorou took out Daniel Faierman in straight sets (6-3, 6-2).
"We started well in doubles today with Stieg and Lefteris clinching the doubles point for us at the No. 2 position. I thought we competed well at every spot in our singles lineup. We are hoping to build on this team win," said UI head coach Ross Wilson.
The freshman Martens was defeated in a close contest to Martin Svenning (6-3, 4-6, 6-4). Josh Silverstein and Jake Jacoby rounded out the contest for the visitors each posting a win. Silverstein defeated Alex Hagermoser (6-3, 6-4). His fellow classmate, Jacoby, earned the win against Stefan Doehler in straight sets (6-4, 7-5).
Up next for Iowa is a home contest against Marquette at the Hawkeye Tennis and Recreation Complex at 6 pm (CT) on Feb. 6. Admission is free to the public.
Iowa 5, Yale 2
Singles
Tyler Wu (YALE) def. No. 116 Matt Hagan (UI): 6-3, 7-6(1)
Dominic Patrick (UI) def. Ziqi Wang (YALE): 3-6, 6-4, 6-3
Lefteris Theodorou (UI) def. Daniel Faierman (YALE): 6-3, 6-2
Martin Svenning (YALE) def. Stieg Martens (UI): 6-3, 4-6, 6-4
Josh Silverstein (UI) def. Alex Hagermoser (YALE): 6-3, 6-4
Jake Jacoby (UI) def. Stefan Doehler (YALE): 6-4, 7-5
Doubles
No. 31 Hagan/Patrick (UI) def. Svenning/Wang (YALE): 6-4
Theodorou/ Martens (UI) def. Faierman/Lu (YALE): 7-5
Andrienko/Doehler (YALE) def. Silverstein/Jacoby (UI): 7-5