Photo Gallery

Feb. 6, 2015
Iowa City, Iowa — The University of Iowa men's tennis team, earned a 6-1 decision over Marquette Friday night at the Hawkeye Tennis and Recreation Complex. The win improves Iowa's record to 4-1.
The Hawkeyes' 31st-ranked doubles duo of Matt Hagan and Dominic Patrick gave Iowa the great start it was looking for with a (6-2) victory over Marquette's No.1 doubles team Teofanovic/Dykema. The victory extended Hagan/Patrick's undefeated streak to 4-0 in the spring campaign. Jake Jacoby and Josh Silverstein also found success with a win over Sklyr/Romanello (6-2). Trailing 4-3, Lefteris Theodorou and Stieg Martens' match versus Fernandez/Tehrani was abandoned due to Iowa already capturing the doubles point.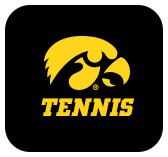 In singles, Hagan ranked 116th by the Intercollegiate Tennis Association, tallied a win over Marquette's No.1 Vukasin Teofanovic in straight sets (7-6(4), 6-2). At the No.2 position, Patrick kept the winning trend going with a victory over Daniel Fernandez (6-4, 6-3). Theodorou registered a tight three-set win (4-6, 6-4, 6-2) before his classmate Martens clinched the match for the Hawkeyes in come-from-behind fashion. After falling (3-6) in the first set, the freshman bounced back with wins in the second (6-3) and third sets (6-3). Jacoby's unbeaten streak in singles came to an end with a loss to Kristiyan Trukov in three sets (3-6, 6-3, 1-10). Silverstein rounded out the action with a victory over Cameron Tehrani (5-7, 6-3, 10-5).
"It was a good environment and we had a lot of people out there. (Having two matches at once) was nice for tennis in Iowa City. In doubles, Matt and Dominic came out and took care of business. In singles, again Dominic and Matt took the lead and got up breaks in the first set, won their first sets and finished it in the second. Our freshman in the first sets were shaky but we fought, battled back and were able to win it in the third," said UI head coach Ross Wilson.
Up next for Iowa is a trip to Provo, Utah to take on the BYU Cougars on Feb. 14.
Iowa 6, Marquette 1
Singles
No. 116 Matt Hagan (UI) def. Vukasin Teofanovic (MU): 7-6 (4), 6-2
Dominic Patrick (UI) def. Daniel Fernandez (MU): 6-4, 6-3
Lefteris Theodorou (UI) def. Nick Dykema (MU): 4-6, 6-4, 6-2
Stieg Martens (UI) def. Andre Romanello (MU): 3-6, 6-3, 6-3
Josh Silverstein (UI) def. Cameron Tehrani (MU): 5-7, 6-3, 10-5
Kristiyan Trukov (MU) def. Jake Jacoby (UI) : 3-6, 6-3, 1-10
Order of finish: 1,2,4,3,6,5
Doubles
No. 31 Hagan/Patrick (UI) def. Teofanovic/Dykema (MU): 6-2
Theodorou/Martens (UI) vs. Fernandez/Tehrani (MU): 3-4 (abandoned)
Jacoby/Silverstein (UI) def. Sklyr/Romanello (MU): 6-2
Order of finish: 3,1,2