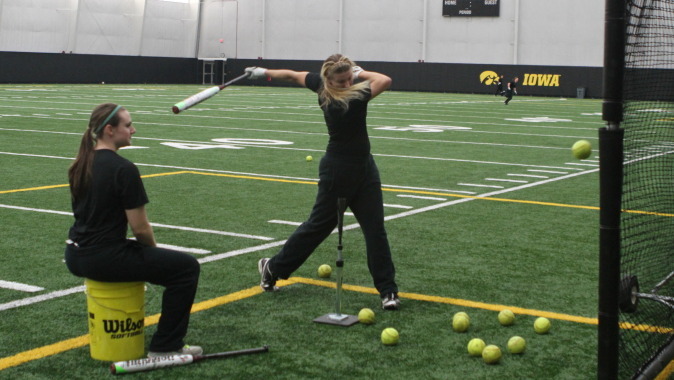 Feb. 6, 2015
Editor's Note: The following first appeared in the University of Iowa's Hawk Talk Daily, an e-newsletter that offers a daily look at the Iowa Hawkeyes, delivered free each morning to thousands of fans of the Hawkeyes worldwide.
By JIL PRICE
IOWA CITY, Iowa — The University of Iowa softball team will open its 2015 season close to home.
After beginning its last four seasons in warmer climates in tournaments hosted by South Carolina, Houston, Baylor, and Georgia, the UI coaching staff made the decision to open 2015 in the Hawkeye State.
For the first time since 2010, Iowa will start their season indoors at the UNI Dome Tournament in Cedar Falls, Iowa. The decision was one that fifth-year head coach Marla Looper made for several reasons.
"We'll be playing indoor on a surface we're used to practicing on, it's close so we aren't missing a class day, and we're getting to chance to play some good opponents," Looper said. "We are eliminating the extra travel that we'll have in the next few weeks, so we might as well start close to home."
The familiarity the team has with the playing surface is something that the student-athletes see as an advantage. After practicing on turf surfaces in the Iowa Turf Facility, Jacobson Hitting Facility, Indoor Practice Facility, and UI baseball's Duane Banks Field throughout the preseason, three-time first-team All-Big Ten shortstop Megan Blank feels she and her teammates will feel comfortable and confident the opening weekend.
"It's going to be a little bit different starting at UNI in a dome," Blank said. "It's the same surface we've been practicing on, so that gives us a lot of confidence going into that tournament. It's a lot different than previous years, where we were having to transition to playing outside on dirt.
"It gives us a lot of confidence, and I'm excited to get started."
Cedar Falls is an approximately 90-minute drive from Iowa City, which allows the team to leave the day of its first game. The Hawkeyes open the tournament with two games on Friday against Drake at 5:45 p.m. (CT), and host UNI at 8 p.m., before continuing action Saturday against Southern Utah (12:45 p.m.) and North Dakota State (3 p.m.). The weekend concludes with a 10 a.m. game Sunday against Green Bay.
Three of the five opponents — Southern Utah, North Dakota State, and Green Bay — earned NCAA Regional berths a season ago. The Hawkeyes hope the level of competition and the close proximately of its season-opening tournament will entice fans to come out and cheer them on to victory.
Hawkeye fans will be able to watch Iowa's game against UNI on Saturday online free of charge, and live results will be available for each contest. Links can be accessed on the Iowa softball schedule page on hawkeyesports.com.
For additional updates and coverage of Hawkeye softball all season long, follow @IowaSoftball on Twitter and like Iowa Hawkeyes Softball on Facebook. Frequent in-game updates will be available for each game on Twitter.