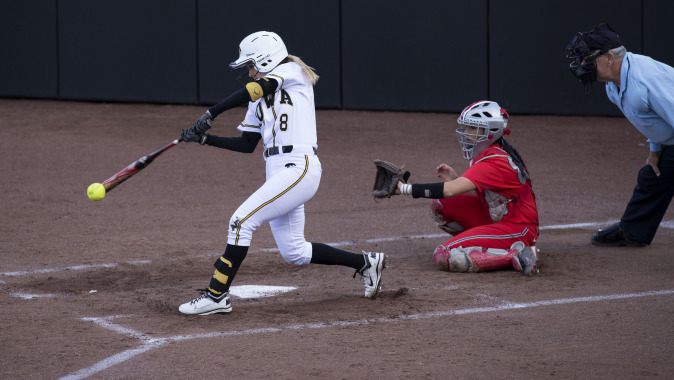 Feb. 6, 2015
CEDAR FALLS, Iowa — The University of Iowa softball team split games against Drake and Northern Iowa on Friday night in the UNI Dome. After falling to Drake 8-0 (6 innings) in game one, Iowa's offense produced 12 runs on 13 hits to defeat Northern Iowa 12-4 (5 innings) in game two.
Iowa's offense came to life in the first inning against the Panthers. Junior Whitney Repole came to the plate with the bases loaded and two outs and delivered a single double the right field line. Junior Holly Hoffman followed with an RBI single of her own to give Iowa a 3-0 lead.
"Coming off of a game where you don't produce is always tough, so I think that adds a little bit more competitive edge for everyone," said Repole. "We really brought the team energy in that second game. That was a big difference."
After a scoreless second inning, Iowa plated four more runs in the third. Freshman Allie Wood drew the leadoff walk before junior Erin Erickson ripped a double to left. With runners on second and third and nobody out Repole laid down a bunt, forced an error by the Drake first baseman and plated Wood and Erickson. Sophomore Claire Fritsch and senior Megan Blank each added RBIs as Iowa ended the inning with a 7-3 lead.
"They did a better job of adjusting and forcing the pitcher to come in the zone [in the second game,]" said head coach Marla Looper. "We really battled through at bats. We had a lot of 6,7,8,9 pitch at bats. When you battle, you are probably going to get a good outcome."
The Hawkeyes added another run in the fourth on a Hoffman single to center, before rallying again in the top of the fifth. Iowa strung together four-straight hits by sophomore Sammi Gyerman, freshman Cheyenne Pratt, senior Megan Blank and freshman Allie Wood to score four runs and secure a 12-4 win.
Ashley Yoways got the win for the Hawkeyes. She allowed four runs on six hits, two strikeouts and no walks. Repole led the Iowa offense with five RBIs. Blank added three while Hoffman added two.
Iowa 12, Northern Iowa 4
1
2
3
4
5
R
H
E
Iowa (1-1)
3
0
4
1
4
12
13
0
Northern Iowa (1-1)
3
0
0
1
0
4
6
1
Game Decision
W: Yoways (IOWA) 1-0
L: Ross (UNI) 0-1
Drake started game one scoring three runs in the bottom of the first. After a walk and an Iowa error, Bulldog senior Hayley Nybo sent a three-run homerun over the left field wall.
Iowa's best scoring chance came in the top of the sixth. Blank ripped a single to right field with one out. Allie Wood laid down the bunt and reached second on a Drake throwing error. Drake hurler Rebehkah Schmidt then struck out Repole and Navarro to end the Iowa scoring threat.
"You have to credit Drake's pitcher," said Looper. "She did a really nice job. She kept us off balance, and we were guessing a lot. You have to tip your hat to her."
Sophomore Shayla Starkenburg suffered the loss in the circle for the Hawkeyes. She allowed four earned runs of six hits and struck out seven.
"The best part about this part of the season is that we get to play again," said Looper. "We couldn't hang our heads. We had to leave that first game behind, and I think we did a phenomenal job at that."
Iowa returns to action tomorrow when it faces Southern Utah and North Dakota State in a double header set to begin at 12:45 p.m. (CT).
Drake 8, Iowa 0
1
2
3
4
5
6
R
H
E
Iowa (1-1)
0
0
0
0
0
0
0
1
2
Drake (1-0)
3
0
0
0
1
4
8
7
2
Game Decision
W: Schmidt (DRAKE) 1-0
L: Starkenburg (IOWA) 0-1