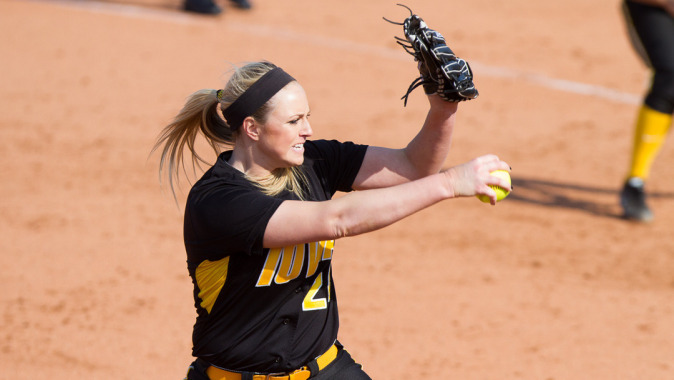 Feb. 7, 2015
CEDAR FALLS, Iowa — University of Iowa redshirt sophomore Shayla Starkenburg registered her first career no hitter against Southern Utah on Saturday in the UNI Dome. The Hawkeyes blanked the Thunderbirds (0-4), 2-0, before falling to North Dakota State (3-0) 9-1 in five innings.
Starkenburg fanned a career-high eight batters and only walked three in seven innings of work. She became just the seventh pitcher in Iowa history to toss a no hitter, and the first pitcher to do so since Amanda Zust on March 21, 2010.
"It felt really great," said Starkenburg. "I knew I had my defense behind me. I just kept pitching knowing that my defense had my back. It's really exciting to get the first no hitter of my career; hopefully I can get a few more in the future."
The Hawkeyes registered their only two runs of the first game in the bottom of the first inning. Senior Megan Blank singled to move freshman Cheyenne Pratt to third before freshman Allie Wood and junior Erin Erickson each put the ball in play to give the Hawkeyes a 2-0 lead.
Starkenburg and the Hawkeye defense took over from there. The Hawkeyes were perfect in the field and sent down the Thunderbirds in order in four of seven innings.?
"Shayla had a great game today," said head coach Marla Looper. "Things weren't perfect, but she did a nice job and Holly (Hoffman) did a nice job behind the plate for her. The fact that she struck someone out on back-to-back changeups was really encouraging. She was firing on all cylinders today."
Iowa 2 , Southern Utah 0
1
2
3
4
5
6
7
R
H
E
Southern Utah (0-4)
0
0
0
0
0
0
0
0
0
2
Iowa (2-2)
2
0
0
0
0
0
X
2
3
0
Game Decision
W: Starkenburg (IOWA) 1-1
L: Wynn (SUU) 0-2
Iowa plated its only run of game two in the first inning. Redshirt sophomore Sammi Gyerman led off with a walk before Pratt ripped a triple to left field to give the Hawkeyes an early 1-0 lead.
The game remained close until the fifth inning. The Bison offense exploded, with two-run homeruns by senior Alex Sobrero, and juniors Cheyenne Garcia and Maritza Lopez-Portillo.
"(Krista) Menke is a quality pitcher," said Looper. "I thought our mindset going in offensively was solid. Throughout the game we continued to make adjustments. She's a quality pitcher, and they are a quality ball club. Unfortunately, we gave them a few free passes and they took advantage of that."
Iowa, now 2-2 on the season, returns to action tomorrow when it faces Green Bay at 10 a.m. (CT).
North Dakota State 9, Iowa 1
1
2
3
4
5
R
H
E
NDSU (3-0)
1
0
1
1
6
9
9
0
Iowa (2-2)
1
0
0
0
0
1
2
2
Game Decision
W: Menke (NDSU) 2-0
L: Yoways (IOWA) 1-1