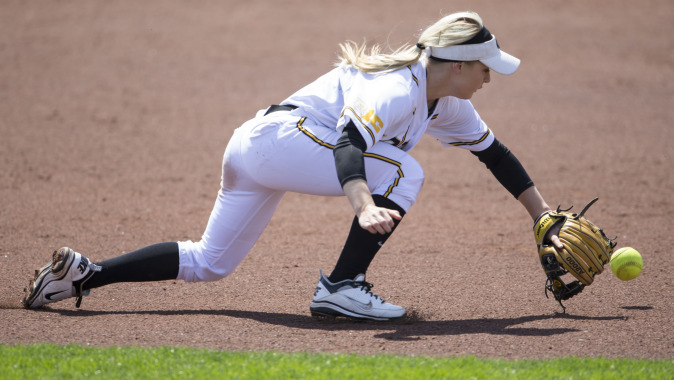 Feb. 8, 2015
Box Score

CEDAR FALLS, Iowa — The University of Iowa softball team downed Wisconsin-Green Bay (2-3), 6-0, on Sunday in the UNI Dome. The Hawkeyes improved to 3-2 on the season with the victory.
The Hawkeyes got the bats going early. Freshman Cheyenne Pratt reached base on a bunt single in the top of the first inning. Senior Megan Blank moved her to second with a fly ball to left before junior Whitney Repole sent an RBI double to left field to give the Hawkeyes a 1-0 lead.
"It was nice to see us coming out of the shoot lively again," said head coach Marla Looper. "I was pleased to see some great at bats and some great offensive production today."
Iowa continued its momentum in the bottom of the second. Redshirt junior Holly Hoffman took a ball to the bicep, and freshman Sarah Kurtz made the Phoenix pay when she sent a two-run homerun over the center field fence. Redshirt sophomore Sammi Gyerman followed with a single to left and Pratt drew a walk causing the Phoenix to make a pitching change. The Hawkeyes ended the inning with a 3-0 lead.
"I was kind of pressing all weekend, so it felt good to relax and get that first one," said Kurtz. "I was up 3-0 in the count, so I knew she had to get a strike in there. I just tried to stay relaxed."
"It was fun to see Sarah get her first homerun," said Looper. "I wish she would have jogged a little bit slower so she could have enjoyed it more. She's put in a lot of good work, and she put a good swing on a good pitch."
After three scoreless innings, Iowa put together a three-run, two-out rally in the top of the sixth. Sophomore Claire Fritsch got the rally started with a double to right center. Gyerman followed with an RBI single to center. Pratt continued her impressive day at the plate (3-3; walk) with a single to left. Blank and Repole added back-to-back RBI singles to give the Hawkeyes a 6-0 lead.
Redshirt sophomore Shayla Starkenburg (2-1) was just two outs away from a no hitter. Starkenburg, who recorded the first no hitter of her career on Saturday, struck out seven and walked seven in a complete game victory.
"The areas where we fell short this weekend are areas to improve on this week," said Looper. "Overall, I think it was a pretty good opening weekend, but we have to be a little bit better next weekend against Florida and NC State. We can't give them as many second chances as we did this weekend."
Iowa returns to action Feb. 14-15 when it travels to Gainesville, Florida, to take on the defending national champion Gators and North Carolina State in the University of Florida Tournament.
Iowa 6, Green Bay 0
1
2
3
4
5
6
7
R
H
E
Iowa (3-2)
1
2
0
0
0
3
0
6
10
2
Green Bay (2-3)
0
0
0
0
0
0
0
0
2
0
Game Decision
W: Starkenburg (IOWA) 2-1
L: CAVIN (WGB) 1-2