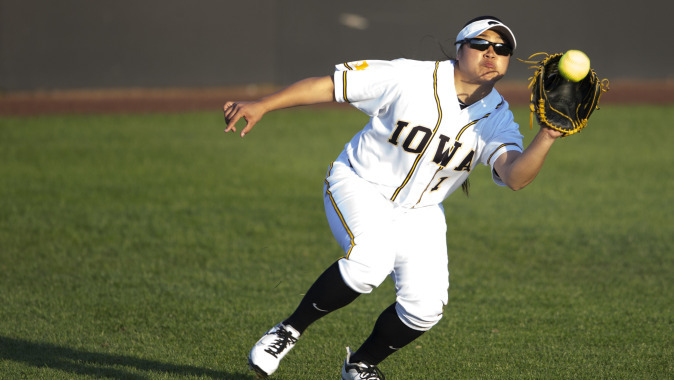 Feb. 11, 2015
Weekly Release

PLAY BALL
The University of Iowa softball team (3-2) travels to Gainesville, Florida, for the University of Florida Tournament on Friday and Saturday. Iowa will play a double-header against No. 1 Florida (5-0) and North Carolina State (2-3) on Saturday and conclude the weekend with another game against the Gators on Sunday.
FOLLOW THE ACTION
Fans can follow all the action with live stats. Links can be accessed under the "Calendar" tab on the front page of hawkeyesports.com or on the softball schedule page. For in-game updates, follow @IowaSoftball on Twitter and "like" our official page on Facebook, facebook.com/iowahawkeyessoftball.
TAKING ON THE BEST
Fifteen of Iowa's 2015 opponents are ranked or receiving votes in the ESPN.com/USA Softball Division I poll released on Feb. 10. They include: Florida (1), Oregon (2), Oklahoma (3), Michigan (7), Louisiana-Lafayette (8), Minnesota (T-12), Missouri (18), Nebraska (20), Tulsa (24), Cal State Fullerton (RV), UCF (RV), East Carolina (RV), San Diego State (RV), Ohio State (RV) and North Carolina State (RV).
STARKENBURG SILENCES THUNDERBIRDS
Redshirt sophomore Shayla Starkenburg registered her first career no-hitter against Southern Utah on Feb. 7. Starkenburg fanned a career-high eight batters and only walked three in seven innings of work. She became just the seventh pitcher in Iowa history to toss a no-hitter, and the first pitcher to do so since Amanda Zust on March 21, 2010. Starkenburg's no-hitter is the 17th in Iowa softball history.
PRATT SHINES IN DEBUT
Cheyenne Pratt started all five games in left field at the UNI Dome Tournament on Feb. 6-8. The freshman recorded a .462 clip, collecting six hits in 13 at bats. Pratt currently leads the team in batting average (.462), slugging percentage (.769), and on-base percentage (.533).
REPOLE PLATES 7
Whitney Repole plated seven runners at the UNI Dome Tournament on Feb. 6-8. including five against Northern Iowa. The junior designated player hit .357 on the weekend, recording five hits in 14 at bats. Repole is batting .400 (4-10) with runners in scoring position and .600 (3-5) with two outs.
KURTZ GOES YARD
Freshman Sarah Kurtz sent a two-run homerun over the center field fence in the Hawkeyes' 6-0 victory over Green Bay on Feb. 8. The long ball was the first of Kurtz's career and the first for the Hawkeyes this season.
BATS COME TO LIFE AT UNI
After falling to Drake,8-0, in the 2015 season opener, the Hawkeyes bats came to life against Northern Iowa. Iowa plated 12 runs on 13 hits in the contest. Leadoff hitter Sammi Gyerman and designated player Whitney Repole led the way for the Hawkeyes with 3 hits each. Repole recorded 5 RBIs in the contest.
HAWKEYES BLANK GREEN BAY
The Hawkeyes defeated Wisconsin-Green Bay, 6-0, on Sunday, Feb. 11. Iowa scored six runs on 10 hits. Redshirt sophomore Shayla Starkenburg was just two outs away from her second no-hitter in as many starts. Starkenburg struck out seven in the complete game shutout.
HAWKEYE DEBUTS
Seven student-athletes made their Hawkeye debuts at the UNI Dome Tournament. They include: Cheyenne Pratt, Sarah Kurtz, Allie Wood, Angela Schmiederer, Daniella Ibarra, Ashley Yoways, and Jillian Navarrete.
SCOUTING FLORIDA
The Florida Gators posted a 55-12 overall record in 2014 to become the NCAA National Champions. The Gators defeated Alabama two games to none in the final of the Women's College World Series. Florida has a perfect 5-0 record and is ranked No. 1 this week's top 25 polls. The Gators defeated Hampton (17-0), No. 7/8 Michigan (2-1), Illinois State (8-0), Jacksonville (9-0) and USF (10-5) in the USF Softball Classic on Feb. 6-8. The Gators hold a 1-2 advantage in the all-time series.
SCOUTING NORTH CAROLINA STATE
The North Carolina State Wolfpack finished 36-18 overall and 16-8 (4th) in the ACC in 2014. The Wolfpack are 2-3 on the season with all three losses coming to ranked opponents. NC State lost to No. 7/8 Louisiana-Lafayette and dropped two to No. 16 LSU. The Hawkeyes hold a 1-0 lead in the all-time series.
IN THE RANKINGS – B1G
Four Big Ten teams appeared the ESPN.com/USA Softball Collegiate Top 25 released Feb. 10. No. 7 Michigan, No. 12 Minnesota, and No. 20 Nebraska are ranked within the top 25, while Ohio State is receiving votes.
B1G IN THE POSTSEASON
Five Big Ten teams punched their ticket to the 2014 NCAA Tournament. Co-Big Ten regular season champions Michigan and Nebraska and Big Ten Tournament Champion Minnesota won their Regionals before losing in the Super Regional round. Both Wisconsin and Northwestern were knocked out of the postseason in the Regional round.
STARTERS RETURNING
Iowa returns seven starters from a year ago in sophomores Alyssa Navarro and Kaitlyn Mullarkey, juniors Erin Erickson, Whitney Repole and Holly Hoffman, and senior Megan Blank. Sophomore Shayla Starkenburg started 15 games in the circle for the Hawkeyes in 2014.
BLANK NAMED PRESEASON ALL-BIG TEN
Senior shortstop Megan Blank was named a Preseason First Team All-Big Ten infielder by College Sports Madness on Feb. 4. Blank, a three-time regular season First Team All-Big Ten honoree, led the Hawkeyes in batting average (.361), slugging percentage (.602), on-base percentage (.452), hits (48), doubles (11), triples (3) and RBIs (25) in 2014.
MEET THE HAWKEYES
The 2015 roster is comprised of one senior — Megan Blank, five juniors — Erin Erickson, Haley Hansel, Holly Hoffman, Jillian Navarrete, Whitney Repole, six sophomores — Claire Fritsch, Sammi Gyerman, Kara Misel, Kaitlyn Mullarkey, Alyssa Navarro, and Shayla Starkenburg, and seven freshmen — Daniela Chambers, Daniella Ibarra, Sarah Kurtz, Cheyenne Pratt, Angela Schmiederer, Allie Wood, and Ashley Yoways. Iowa is led by fifth-year head coach Marla Looper, assistants Adrianna Baggetta and Adam Arbour, and volunteer assistant coach Chelsey Carmody.
MEET THE CAPTAINS
Sophomore walk-ons Kaitlyn Mullarkey and Kara Misel were voted 2015 captains by their teammates. Mullarkey stepped in last season when injuries created a spot in the field. She logged time in the outfield before joining the infield for the majority of the Big Ten season as Iowa's first baseman. Misel appeared primarily as a pinch runner in 2014.
SCHEDULE AT A GLANCE
The Hawkeyes compete in six non-conference tournaments before opening Big Ten play. Iowa opens conference action on March 20 when it hosts Maryland at Pearl Field in Iowa City, Iowa.
HAWKEYES IN 2014
The Hawkeyes posted a 16-30-1 overall record in 2014. Iowa finished eighth in the Big Ten with a 9-14 record.
TAKING ON THE BEST
Nine of Iowa's 30 losses in 2014 came at the hands of ranked foes: No. 14/18 Missouri on Feb. 14 (2-1 in eight innings), No. 14/16 Baylor on Feb. 15 (2-0), No. 23/RV Northwestern on April 5 (6-4 and 4-1), No. 14 Minnesota on April 8 (2-0 and 7-0) and No. 19/22 Nebraska on April 11-12 (5-2, 9-1 in six innings and 18-0 in five innings). UI recorded its first win over a ranked opponent on April 6 against No. 23/RV Northwestern, 4-3, in walk off fashion, and added a pair of wins over No. 13/15-ranked Missouri, 3-1 and 13-9, on April 16. Each of Iowa's wins over ranked opponents came at Pearl Field in Iowa City. The Hawkeyes have also been defeated by teams receiving votes in at least one of the national polls on six occasions this year: Lipscomb on Feb. 14 (10-0 in five innings), UAB on Feb. 15 (6-1 in nine innings), and Mississippi State on Feb. 21 (2-0), Feb. 22 (5-0), and Feb. 23 (9-1 in five innings).
NFCA HONORS BLANK FOR 3RD-STRAIGHT YEAR
Shortstop Megan Blank collected her third-straight NFCA honor as she was a second team All-Midwest Region pick in 2014. The senior was named to the NFCA All-Midwest Region second team as a freshman and first team as a sophomore. She is the 16th player in Iowa history to earn three regional awards in her career.
CAREER UPDATES
Senior Megan Blank ranks second in career batting average (.398), fifth in doubles (44), eighth in home runs (18), ninth in RBIs (117) and 10th in triples (10).
3 IN A ROW
Senior Megan Blank received her third-straight First Team All-Big Ten accolade and was also named to the conference's All-Defensive Team, following the 2014 season. The shortstop is the eighth Iowa player to earn first team distinction three times. Blank led the Hawkeyes in batting average (.361), slugging percentage (.602), on-base percentage (.452), hits (48), doubles (11), triples (3) and RBIs (25) last season. In Big Ten action, Blank hit at a .415 clip, slugged .677 and compiled an on-base percentage of .506. Seven of her 11 doubles, two of her three triples, two of her five home runs and 15 of her 25 RBIs came against conference foes. Heading into her senior season, Blank ranks in several career categories at Iowa. She is second with a .398 batting average, sixth with 43 doubles, eighth with 18 home runs, ninth with 113 RBIs and 10th with 10 triples with one season remaining with the Hawkeyes. Blank led the team with 13 multiple-hit games and six multiple-RBI games, had the longest reached base streak (14) and owned the longest hitting streak (9). She ended the season with a seven-game reached base streak.
HAWKEYE COACHING DEBUT
Adam Arbour joined the University of Iowa softball program as an assistant coach on July 30, 2014. Arbour spent the last three years as a volunteer assistant coach at Alabama under head coach Patrick Murphy. He helped the Crimson Tide to an NCAA National Championship in 2012 and a Women's College World Series Runner-Up finish in 2014. Prior to Alabama, Arbour served as a student manager at Michigan under head coach Carol Hutchins from 2008-11. While at Michigan, the Wolverines won three-straight Big Ten Championships (2009, 2010, 2011) and advanced to the Women's College World Series in 2009.
WELCOME TO THE 100 CLUB
Fourth-year head coach Marla Looper collected her 100th career win, 3-2, in the 2014 regular season finale at Pearl Field against Ohio State. Iowa recorded 27 wins in 2011, 27 wins in 2012 and added 30 wins in 2013. The team's 30 wins last season was the highest win total since 2009 when the Hawkeyes posted a 42-19 mark. UI softball added 16 wins — nine in conference action and three over ranked foes — in 2014 bringing Looper's career record to 100-104-1 (.490) as the Iowa skipper.
PRACTICE FACILITY
The Hawkeyes have benefited from two new facilities in 2015 — the indoor Iowa Turf Facility, located at the Hawkeye Tennis and Recreation Complex, and the Jacobson Hitting Facility, located in football's former weight room. The HTRC Iowa Turf Facility has enabled the program to have consistency in team practices, while the Jacobson hitting cages have allowed student-athletes to take extra reps at any time.
GAME DAY ATMOSPHERE ADDITION
Hawkeye softball added a video scoreboard to their game day atmosphere in 2014. The board, which is approximately 16-feet tall and 28-feet wide, was a repurposed video wall from football's Kinnick Stadium. A border of Iowa softball accolades surrounds the video scoreboard and completes the new look. The video scoreboard made its debut at the 2014 home opener against Drake on April 2, 2014. Since then, it has been used to show in-game highlights, introductory videos, graphics, advertisements and additional content.
HAWKEYE TRADITION
Iowa has made four Women's College World Series appearances (1995, 1996, 1997, 2001) and played in 16 NCAA Tournaments in school history. The 16 appearances are the second most in Big Ten history, and the four WCWS appearances equal the second most in conference history. The Hawkeyes have won four Big Ten Conference regular season championships (1989, 1997, 2000, 2003) and two Big Ten Tournament titles (2001, 2003).