Feb. 15, 2015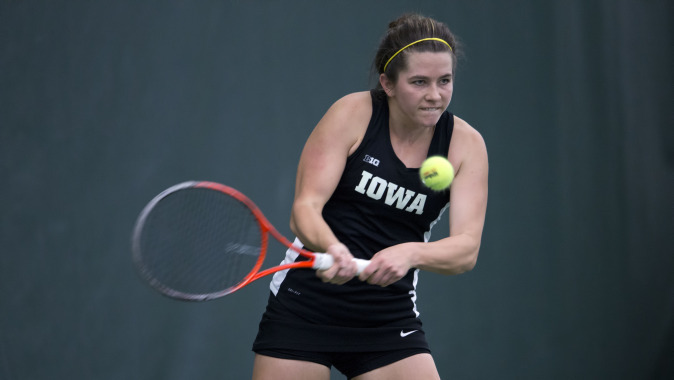 Feb. 15, 2015
EUGENE, Ore. — The University of Iowa women's tennis team split its road trip duals with a win over Montana and Oregon handing them the first defeat of the season, 4-3. This is the Hawkeyes first loss to the Ducks as Iowa leads the all-time series against Oregon 4-1.
Senior Shelby Talcott and junior Annette Dohanics battled at the No. 1 doubles position, taking on Oregon's Nia Rose and Alyssa Tobita. The duo was ultimately overcome, 7-5. The No. 2 doubles team of Anastasia Reimchen and Morven McCulloch also struggled to find a rhythm, falling 6-3 to Nicole Long and Marlou Kluiving (Oregon).
Katie Zordani and Zoe Douglas collected their second doubles win of the road trip, beating out Lina Akesson and Kadie Hueffner of the Ducks, 6-3. The win increases the pair's record as a duo to 2-1 overall.
Talcott recovered from her doubles misstep with a 6-2, 4-6, 6-3 win over Nia Rose at the No. 1 singles position. Fellow senior Ellen Silver also found success during singles play, overcoming Lina Akesson, 6-2, 6-3.
McCulloch, Zordani, and Reimchen struggled during singles competition, falling to Nicole Long, 6-2, 7-5, Marlou Kluiving, 7-5, 6-4, and Alyssa Tobita, 6-2, 6-1, respectively.
Douglas capitalized on her doubles victory by taking down Allie Hueffner, 4-6, 6-4, 6-3 at the No. 6 singles position. The win was Iowa's third singles victory of the match.
Iowa will return to action on Feb. 20 hosting Oklahoma at the Hawkeye Tennis and Recreation Complex. Competition is set to begin 2:30 p.m. (CT).
Singles Results
1. Shelby Talcott (Iowa) def. Nia Rose (ORE) 6-2, 4-6, 6-3
2. Alyssa Tobita (ORE) def. Anastasia Reimchen (Iowa) 6-2, 6-1
3. Nicole Long (ORE) def. Morven McCulloch (Iowa) 6-2, 7-5
4. Marlou Kluiving (ORE) def. Katie Zordani (Iowa) 7-5, 6-4
5. Ellen Silver (Iowa) def. Lina Akesson (ORE) 6-2, 6-3
6. Zoe Douglas (Iowa) def. Allie Hueffner (ORE) 4-6, 6-4, 6-3
Order of Finish: 2, 3, 5, 4, 6, 1
Doubles Results
1. Rose/Tobita (ORE) def. Talcott/Dohanics (Iowa) 7-5
2. Long/Kluiving (ORE) def. Reimchen/McCulloch (Iowa) 6-3
3. Zordani/Douglas (Iowa) def. K. Hueffner/Akesson 6-3
Order of Finish: 2, 3, 1