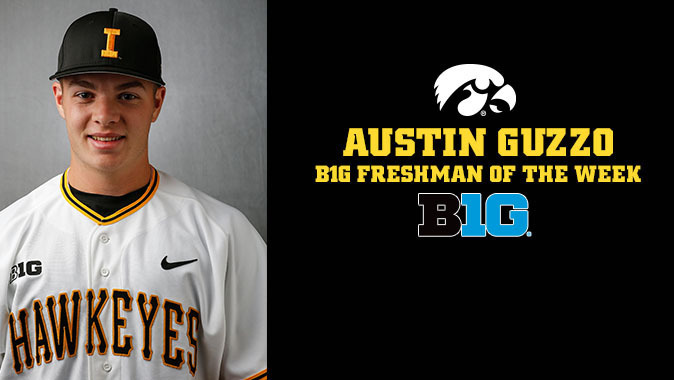 Feb. 16, 2015
IOWA CITY, Iowa — University of Iowa freshman catcher Austin Guzzo has been named the Big Ten Freshman of the Week, the league office announced Monday.
The Brooklin, Ontario, Canada, native earned the distinction after hitting .500 with one run and one RBI during the Hawkeyes' opening weekend at the Snowbird Baseball Classic in Port Charlotte, Florida.
After earning his first collegiate start in the weekend finale against George Mason, Guzzo posted his first career multi-hit game, going 2-for-4 with a run and an RBI. He drove in the go-ahead run in the fourth inning in what also went down as his first collegiate hit.
Defensively, Guzzo helped the Iowa pitching staff shut down the Patriots' offensive attack. Iowa limited George Mason to four hits and Guzzo threw out both would-be base stealers.
The Hawkeyes won 2-of-3 games in the Sunshine State, posting wins over Saint Louis (4-2) and George Mason (4-1) after dropping the season-opener, 5-4, to Kansas State.
Guzzo is the first Hawkeye to earn Big Ten Freshman of the Week since Sasha Kuebel on May 21, 2012.
Iowa returns to action Friday in Little Rock, Arkansas, facing UALR at 3:30 p.m. (CT).