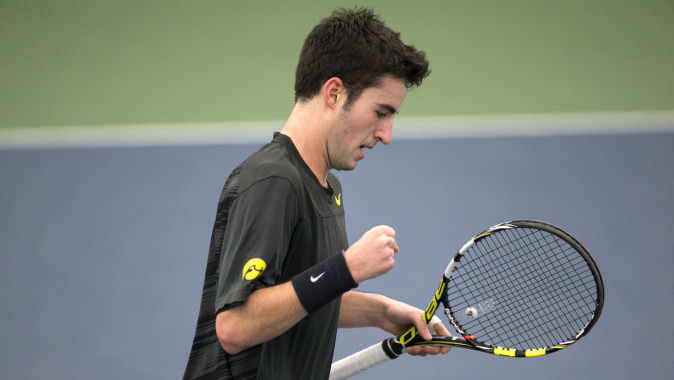 Feb. 16, 2015
Salt Lake City, Utah — The University of Iowa men's tennis team, notched another victory Monday defeating 54th-ranked Utah, 4-3, in exciting come-from-behind fashion. The victory mirrored its last win over BYU on Saturday, and is the teams' fourth straight. The win improves the Hawkeyes record to 6-1.
"We fought hard and battled nerves today. We are fortunate to come away with a win. Matt Hagan and Dominic Patrick led us in singles and it was nice to see Josh Silverstein step up and clinch the match," said UI head coach Ross Wilson.
With No. 98 Hagan taking care of business in three sets against Slim Hamza (2-6, 7-6, 6-4). The match came down to a winner-take-all affair between Silverstein and Utah's Freddie McGeehan. With the match tied at a set apiece it all came down to the third set. For the second straight match, a freshman delivered for Iowa as Silverstein was able to register the win in the third set (6-4) to beat McGeehan (6-1, 4-6, 6-4).
At the No. 3 position, Patrick earned another win, grabbing the upper hand against Matt Cowley in straight sets (6-1, 6-1). The junior remains unbeaten in singles this spring (6-0). Jake Jacoby also registered a win, downing Santiago Sierra at the No. 6 position (7-6, 6-2). Lefteris Theodorou fell at the No. 2 position to Cedric Willems (2-6, 1-6). Stieg Martens looked to add another win to his first year resume but could not as he was outlasted (5-7, 5-7).
In doubles, 57th-ranked Hagan/Patrick dropped their match against Cowley/Willems (6-1). Freshmen duo Theodorou/Martens squared off with Hamza/McGuiness in search of a victory but were beaten (6-3). Leading 5-3, Jacoby and Silverstein's match versus Sierra/Jonhagen was abandoned due to Utah already capturing the doubles point.
The win is the Hawkeyes' first against a ranked opponent in exactly a year, when they beat then-ranked No. 39 Minnesota, 4-3, on Feb. 16, 2014.
Iowa will take its four-match win streak back home when it entertains Wichita State at the Hawkeye Tennis and Recreation Complex on Feb. 20. Admission is free to the public.
Iowa 4, Utah 3
Doubles
Cowley/Willems (UTAH) def. No. 57 Hagan/Patrick (UI): 6-1
Hamza/McGuiness (UTAH) def. Theodorou/Martens (UI): 6-3
Jacoby/Silverstein (UI) vs. Sierra/Jonhagen (UTAH): 5-3 abandoned
Order of Finish: 1,2,3
Singles
No. 98 Matt Hagan (UI) def. Slim Hamza (UTAH): 2-6, 7-6, 6-4
Cedric Willems (UTAH) def. Lefteris Theodorou (UI): 6-2, 6-1
Dominic Patrick (UI) def. Matt Cowley (UTAH): 6-1, 6-1
Parker McGuiness (UTAH) def. Stieg Martens (UI): 7-5, 7-5
Josh Silverstein (UI) def. Freddie McGeehan (UTAH): 6-1, 4-6, 6-4
Jake Jacoby (UI) def. Santiago Sierra (UTAH): 7-6, 6-2
Order of Finish: 2,3,4,6,1,5