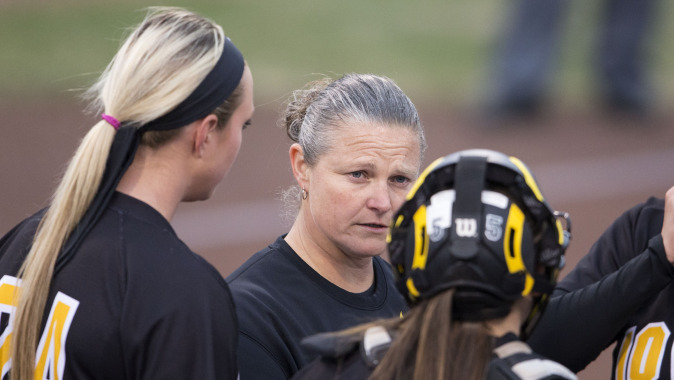 Feb. 20, 2015
LAFAYETTE, La. — The University of Iowa softball team fell to Hofstra , 4-3, and No. 6 Louisiana-Lafayette, 4-3, Friday afternoon. The Hawkeyes drop to 3-7 on the season following day one of the Ragin' Cajun Invitational at Lamson Park.
"I'm looking for us to be better tomorrow," fifth-year head coach Marla Looper said. "We need to hold down the fort when we get some runs up and we get ahead. We need our defense and our pitching to stand strong so we can hold that.
"We gave them too many runs today. We got ahead of both of them then let them play with us. We have to do a better job of closing the door."
Hofstra 4, Iowa 3
1
2
3
4
5
6
7
R
H
E
Iowa (3-6)
0
1
0
1
1
0
0
3
7
1
Hofstra(3-3)
0
0
0
2
2
0
X
4
5
1
Game Decision
W: Lashley (HOF) 2-1
L: Yoways (IOWA) 1-3
The Hawkeyes held a 2-0 lead through three innings before the Pride rallied to record their, 4-3, come-from-behind win.
Freshman Angela Schmiederer took advantage of a bases loaded situation in the top of the second, plating her first career RBI with a sacrifice fly to deep center. Senior Megan Blank — who opened the inning with a single — touched home to give the Hawkeyes an early 1-0 lead.
Iowa added another run in the fourth on a double off the bat of freshman Allie Wood. She drove in junior Erin Erickson, who singled earlier in the frame. The first extra base hit of Wood's collegiate career put Iowa ahead 2-0.
Freshman starting pitcher Ashley Yoways held Hofstra scoreless until the bottom of the fourth. Consecutive singles followed by a walk loaded the bases for Danielle Bitts, who brought in a run with a sacrifice fly to right. The Pride used a single to score a second run and tie the contest, before Yoways could close the inning with a strikeout.
The Hawkeyes answered with a run in the top of the fifth to regain a lead, 3-2. Sophomore Sammi Gyerman was hit by a pitch, Blank reached on a fielder's choice, and junior Whitney Repole singled to fill the bases for Wood who added her second RBI of the contest on a hit by pitch.
Following a leadoff walk in the bottom of the fifth, Brittany Allocca put the Pride ahead, 4-3, with a two-run home run. The long ball, which chased Yoways from the circle, proved to be the game winner as Hofstra was able to hold Iowa scoreless in the remainder of the contest to record the win.
Yoways (1-3) was tagged with the loss in the circle. She struck out one and walked six in her four innings of work. Redshirt sophomore Shayla Starkenburg threw the final two innings in relief, registering one strikeout.
Wood paced the Hawkeyes offensively with two hits and two RBIs, both career highs. Schmiederer also collected an RBI.
#6 Louisiana-Lafayette 4, Iowa 3
1
2
3
4
5
6
7
R
H
E
Louisiana-Lafayette (10-0)
1
1
2
0
0
0
0
4
8
1
Iowa (3-7)
0
3
0
0
0
0
0
3
7
3
Game Decision
W: Hamilton (LA) 1-0
L: Starkenburg (IOWA) 2-4
The Ragin' Cajuns jumped out to a quick lead with a leadoff homerun in the top of the first from the bat of Haley Hayden, and added another on a Hawkeye error in the second.
The Hawkeyes rallied back in the bottom of the second, using four hits and an error to score three runs and take a 3-2 advantage against the sixth-ranked Ragin' Cajuns. Iowa started the inning with back-to-back singles by junior Erin Erickson and freshman Allie Wood.
Freshman Angela Schmiederer's fielder's choice put runners on the corners for freshman Sarah Kurtz, who plated a run with an infield single. A throwing error on the next play allowed a second Hawkeye run to cross. Iowa scored its go-ahead run on an RBI single off the bat of senior Megan Blank.
Louisiana-Lafayette's offense responded with a game-tying home run in the third by Samantha Walsh. A walk and a single followed by an error allowed the Ragin' Cajuns to regain a lead, 4-3.
Hawkeye starting pitcher Shayla Starkenburg limited the Louisiana-Lafayette offense from there, holding the Ragin' Cajuns scoreless in the final four innings of play, but the Iowa bats were silenced by pitcher Christina Hamilton who came on in relief.
Starkenburg (2-4) struck out four in her complete game effort, allowing two earned runs and eight hits, while walking three.
Seven Hawkeyes posted a hit in the contest, including freshman Cheyenne Pratt, redshirt sophomore Sammi Gyerman, Blank, Erickson, Wood, Schmiderer, and Kurtz.
Iowa resumes Ragin' Cajun Invitational action on Saturday with games against Hofstra at 10 a.m. (CT) and Missouri State at 5:40 p.m. Live stats are available for each contest on the softball schedule page at hawkeyesports.com.