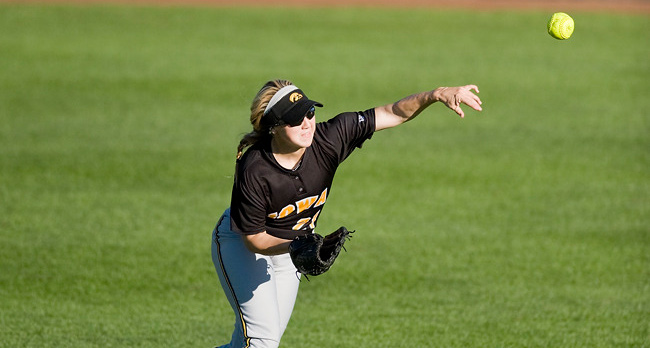 Feb. 21, 2015
Box Score

LAFAYETTE, La. — With one out to go in the game, Hofstra used five straight singles and a grand slam to record a 9-3 come from behind win over the University of Iowa softball team on Saturday morning. The loss drops the Hawkeyes to 3-8 on the young season and moves the Pride to 4-4.
Iowa reached the scoreboard early using three singles in a row to jump ahead, 1-0, in the bottom of the first. Sophomore Claire Fritsch legged out an infield single, redshirt sophomore Sammi Gyerman smoked a ball up the middle, and senior Megan Blank made the run cross with a hard single through the right side.
After a scoreless second, the Hawkeyes posted another run in the third. After freshman Cheyenne Pratt and Fritsch recorded consecutive singles to start the inning, Gyerman capitalized with a double down the left line. Her second double of the season gave Iowa a 3-0 advantage.
The Pride ruined the shutout bid in the top of the fourth, capitalizing on a leadoff walk. An Erin Trippi double to deep right center field allowed Hofstra to score the runner from first.
The Hawkeyes managed just one more hit in the remainder of the contest, while Hofstra used six hits to score eight runs in the top of the seventh to secure its comeback victory, 9-3.
Starkenburg (2-5) took the loss in the circle. She held the Pride to two hits through six, exited the contest midway through the seventh, and re-entered to close the game. Freshman Ashley Yoways faced three batters in the seventh.
Fritsch was a perfect 2-for-2 at the plate. Gyerman also recorded two hits and led the Hawkeyes with two RBIs. Blank picked up the third RBI for Iowa.
The Hawkeyes are back in action tonight at 5:30 p.m. (CT) against Missouri State. Live stats are available on the softball schedule page of hawkeyesports.com.
Hofstra 9, Iowa 3
1
2
3
4
5
6
7
R
H
E
Hofstra (4-4)
0
0
0
1
0
0
8
9
8
0
Iowa (3-8)
1
0
2
0
0
0
0
3
7
1
Game Decision
W: Pirone (HOF) 2-3
L: Starkenburg (IOWA) 2-5