Feb. 21, 2015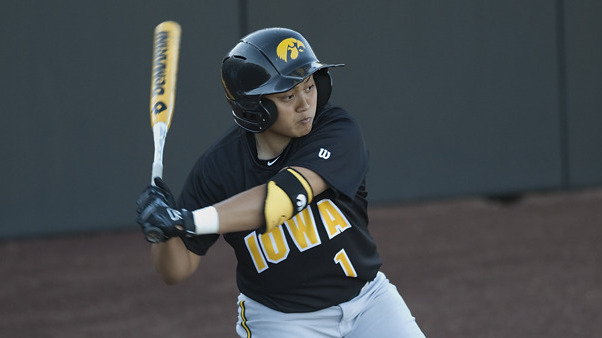 Box Score

LAFAYETTE, La. — The University of Iowa softball team fell to Missouri State, 3-2, in eight innings on Saturday night in Ragin' Cajun Invitational action. The Bears (7-7) used a walkoff single to push the game winning run across.
With the loss, the Hawkeyes fall to 3-9 on the season.
Missouri State reached the scoring column first, plating a run in the bottom of the first inning. The leadoff batter for the Bears reached on a Hawkeye miscue, and came around to score on a Mary Stephens double to right center.
After trading zeroes with the Bears in the next three innings, the Hawkeye bats came alive in the top of the fifth. Sophomore Kaitlyn Mullarkey reached on a hit by pitch to start the inning and moved into scoring position on a sacrifice bunt by freshman Ashley Yoways.
Head coach Marla Looper called on the dugout to perform in the RBI situation. Junior Erin Erickson delivered with a pinch hit, RBI double to score Mullarkey, and sophomore Alyssa Navarro followed with a pinch hit, RBI single up the middle to plate Erickson and give the Hawkeyes a 2-1 advantage.
"It was a great opportunity for us to get Erin and Alyssa in and to get back-to-back production from them was great," Looper said. "That was what we needed in that moment. They stepped up and did what they were asked to do.
"It's not easy to be in the dugout all game and come in in crunch time, but they both executed and helped us out tremendously."
The Bears knotted the contest in the bottom of the sixth, scoring a run on a single through the right side after a pair of walks. Freshman right fielder Allie Wood limited their run production, gunning a second runner down at the plate for the first assist of her career.
A scoreless seventh sent the game into extra innings, where Missouri State prevailed. The Bears loaded the bases with a single, a walk, and a fielder's choice sacrifice bunt for Molly Fields, who used a single up the middle to earn the walkoff win, 3-2. Yoways took the loss (1-4). She went the distance in the circle, posting three strikeouts. Erickson, Mullarkey and Navarro logged the only hits for the Hawkeyes.
Iowa has a rematch against Missouri State on Sunday at 9:30 a.m. (CT). Live stats are available for the weekend finale on the softball schedule page at hawkeyesports.com.
Missouri 3, Iowa 2
1
2
3
4
5
6
7
8
R
H
E
Iowa (3-9)
0
0
0
0
2
0
0
0
2
3
1
Missouri State (7-7)
1
0
0
0
0
1
0
1
3
8
0
Game Decision
W: Jones (MSU) 4-2
L: Yoways (IOWA) 1-4