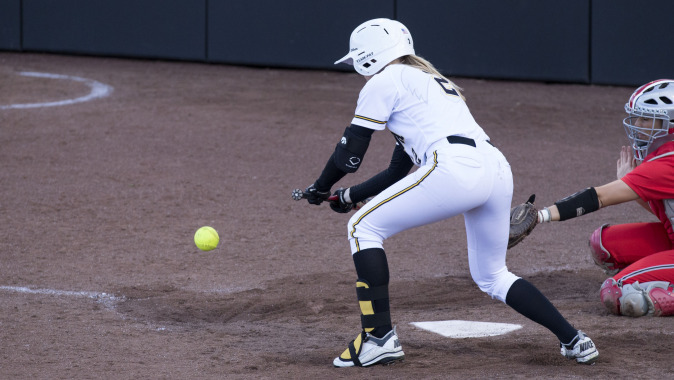 Feb. 27, 2015
Box Score

ORLANDO, Fla. — Junior Erin Erickson used a squeeze bunt to score the eventual game-winning run in the fifth to guide the University of Iowa softball team to a 3-2 victory over No. 17 UCF on Saturday night.
It marks the first ranked win for the Hawkeyes since sweeping No. 13 Missouri in doubleheader action at Pearl Field in Iowa City a season ago on April 16, 2014.
"I liked the fight that they had," fifth-year head coach Marla Looper said. "They had great energy coming off of game one, came out after a rest, and jumped on them. It was nice to see that.
"We had some great defensive plays tonight that kept us in this ball game as well. It was nice to see that we only allowed one earned run, which shows that we're starting to turn the corner."
The Hawkeyes reached the scoreboard early, plating a run in the top of the first inning for a 1-0 advantage over the Knights. Sophomore Kaitlyn Mullarkey reached on a hit by pitch and came around to score on a double off the bat of senior Megan Blank.
UCF answered with a pair of runs in the second. A walk and wild pitch put a Knight in scoring position for Brittany Solis, who used a single to tie the game. An error on the play allowed Solis to advance to third and eventually score the go-ahead run on a Courtney Rotton sacrifice fly.
After a scoreless third and fourth, the Hawkeye offense gained momentum with a pinch hit double by sophomore Claire Fritsch in the fifth. She advanced to third on a groundout and touched home on an error to even the score, 2-2.
The Hawkeyes regained a lead in the top of the sixth inning. Redshirt sophomore Sammi Gyerman opened the frame with a single to left and advanced to third when Blank reached on a Knight error. With teammates on the corners, Erickson executed a squeeze bunt to plate the go-ahead run for Iowa, 3-2.
"Erin had ice in her veins and that's all you can ask of your players," Looper said. "They're prepared to do these things every day."
It proved to be the game-winner as sophomore starting pitcher Shayla Starkenburg and the Hawkeye defense held the Knights scoreless in the remainder of the contest to secure the 3-2 final victory.
Starkenburg (3-6) was credited with the complete game win. She allowed one earned run on six hits and struck out three.
Five Hawkeyes recorded a hit in the contest, led by Blank's two hits. Erickson and Blank recorded one RBI apiece.
"This win is proof that we've been there the whole time," Looper said. "We believed they could get it done, and they believe it now too."
Iowa is back in action on Saturday with a 10:30 a.m. (CT) game against Princeton and a 3 p.m. contest against Florida A&M. Live stats are available for both on the softball schedule page at hawkeyesports.com.
Iowa 3, #17 UCF 2
1
2
3
4
5
6
7
R
H
E
Iowa (5-10)
1
0
0
0
1
1
0
3
6
2
#17 UCF (13-3)
0
2
0
0
0
0
0
2
6
2
Game Decision
W: Starkenburg (IOWA) 3-6
L: Turnier (UCF) 7-3