Feb. 28, 2015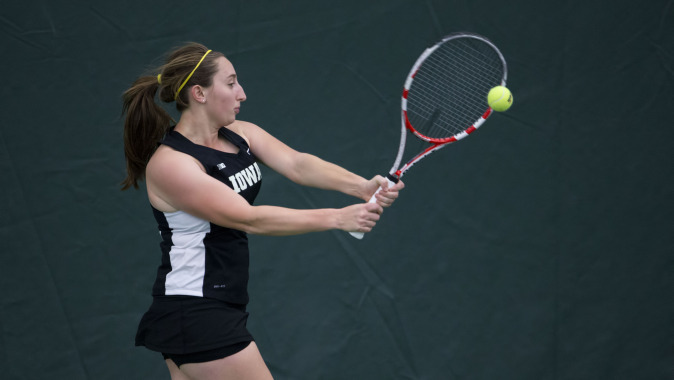 Feb. 28, 2015
Box Score

IOWA CITY, Iowa — The University of Iowa women's tennis team dropped its first conference dual of the year, falling to No. 21 Purdue, 5-2. The Hawkeyes hold a 4-3 record overall and now stand 0-1 in the Big Ten.
Iowa struggled in doubles play, falling at the No. 1 and No. 2 positions to give Purdue a 1-0 lead heading into singles. Senior Shelby Talcott and freshman Anastasia Reimchen closed the gap of a 0-3 deficit to be tied at three before being defeated by Purdue's Daniela Vidal and Tess Bernard-Feigenbaum, 8-4.
Another senior and freshman duo, Morven McCulloch and Zoe Douglas, battled Natalia Davila and Lynda Xepoleas from Purdue, but were ultimately overcome 8-2 at the No. 2 position.
At No. 3 doubles, Senior Katie Zordani and junior Annette Dohanics trailed 5-3 when the match was abandoned.
In singles play, Dohanics and McCulloch led after the first set of their matches at the No. 4 and No. 2 positions, respectively. Dohanics took on Purdue's Andjela Djokovic, leading 6-4, and then fell in the second set, 2-6. The final set was tied at 4 when Dohanics lit a fire to win the final two points and walk away with a 6-4, 2-6, 6-4 victory.
McCulloch also collected a point for Iowa, finishing her match strong and tallying a 6-4, 7-5 win over Tess Bernard-Feigenbaum.
It was a battle at the No. 5 singles slot as Zordani and Purdue's Nicole Robinson forced tie breaker points in the first set after tying the match at 4, 5, and 6. Robinson ultimately took the first set with a 7-6 (6-4) win. Zordani led the second set 4-3 before another tiebreaker was needed, ultimately swinging in Iowa's favor 7-6 (6-4). The final tiebreaker gave Purdue the 5-2 win as Robinson took the match, 10-7.
The Boilermakers showed their strength at No. 6, No. 1 and No. 3 singles as Douglas, Talcott, and Reimchen were handed defeats to lock in Purdue's victory. Douglas fell to Krisztina Kapitany, 6-1, 6-2; while Talcott had a difficult go against Daniela Vidal, being overcome 6-0, 6-3. Reimchen struggled to find a lead and was defeated by Purdue's Lynda Xepoleas, 6-4, 6-3.
The Hawkeyes return to action on Monday, March 2 to meet the Kansas Jayhawks on the road. Competition will begin at 3 p.m. (CT) at the Jayhawk Tennis Center.
Singles Results
1. Daniela Vidal (Purdue) def. Shelby Talcott (Iowa), 6-0, 6-3
2. Morven McCulloch (Iowa) def. Tess Bernard-Feigenbaum (Purdue), 6-4, 7-5
3. Lynda Xepoleas (Purdue) def. Anastasia Reimchen (Iowa), 6-4, 6-3
4. Annette Dohanics (Iowa) def. Andjela Djokovic (Purdue), 6-4, 2-6, 6-4
5. Nicole Robinson (Purdue) def. Katie Zordani (Iowa), 7-6, 6-7, 10-7
6. Krisztina Kapitany (Purdue) def. Zoe Douglas (Iowa), 6-1, 6-2
Order of Finish (6, 1, 3, 2, 4, 5)
Doubles Results
1. Vidal/Bernard-Feigenbaum (Purdue) dec. Talcott/Reimchen (Iowa), 8-4
2. Davila/Xepoleas (Purdue) dec. McCulloch/Douglas (Iowa), 8-2
3. Robinson/Kapitany (Purdue) led Zordani/Dohanics (Iowa), 5-3 Abd.
Order of Finish (2,1)