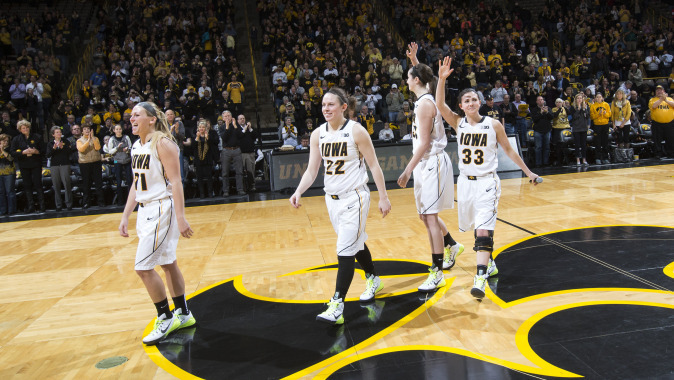 March 3, 2015
Editor's Note: The following first appeared in the University of Iowa's Hawk Talk Daily, an e-newsletter that offers a daily look at the Iowa Hawkeyes, delivered free each morning to thousands of fans of the Hawkeyes worldwide. To receive daily news from the Iowa Hawkeyes, sign up HERE.
IOWA CITY, Iowa — Coming off one of the most exciting weeks in recent program history, the University of Iowa women's basketball team is flying high heading into this week's Big Ten Tournament.
The Hawkeyes downed league rivals Wisconsin (78-74) and Minnesota (92-76) last week inside Carver-Hawkeye Arena to conclude the regular season, finishing 16-0 at home to set a new single season program record.
Lisa Bluder earned her 300th win at Iowa as the Hawkeyes downed the Badgers.
Ally Disterhoft and Samantha Logic were named Capital One Academic All-Americans, making Iowa the only school in the nation to have two honorees.
Sunday, Iowa capped a special regular season on Senior Day in front of a season-high crowd of nearly 10,000 fans.
"I don't think you could ask for a better storybook ending to this game," said Bluder. "We go 16-0 at home here in Carver-Hawkeye Arena and set a record. We have enough of a lead that we can take our seniors out one at a time and let them get the ovation that they deserve."
The winningest senior class in 21 years went out in style. Logic notched her 30th career double-double, posting 24 points and 13 assists. Melissa Dixon finished 8-of-11 from 3-point range, marking the fourth game this season she has made at least eight 3-pointers in a game (10 at Drake, 8 at Illinois, 9 at Northwestern). The eight 3-pointers set a new Carver-Hawkeye Arena record.
"With a great crowd like we had, it was special to get that win in front of them," said Dixon.
Bethany Doolittle finished one block shy of a triple-double (12 points, 12 rebounds, 9 blocks). The nine blocks set a new program record.
The loudest moment of the contest may have come in the final minute, as Kathryn Reynolds drained a 3-pointer in front of the Hawkeye bench.
"To see everyone's reaction after I hit that 3-pointer was really special, and something I will never forget," said Reynolds.
"With these three seniors, we wanted to get our last for sure win at Carver. I think we are going to be here again, but it was a storybook ending, and I wouldn't change it for the world," said Logic.
Following Iowa's win in the regular season finale, Logic was named Big Ten Player of the Week, and ESPN's National Player of the Week.
Four Hawkeyes — Logic (first team), Dixon (second), Disterhoft (second), Doolittle (second) — earned All-Big Ten honors, matching Maryland for the most in the league.
Now, the Hawkeyes turn their attention to the Big Ten Tournament.
"I am excited about the way our team is playing," said Bluder. "We have the benefit of having four tremendous seniors on our team. They have competed in a number of big games, and I hope that bodes well for us in this weekend's tournament."
The 14th-ranked Hawkeyes finished second in the Big Ten and earned the No. 2 seed in the 2015 Big Ten Conference Tournament. The event, set for March 4-8 at Sears Centre Arena in Hoffman Estates, Illinois, features a five-day format for the first time in conference history.
Iowa (23-6, 14-4) earned a double-bye in the inaugural 14-team format. The Hawkeyes will open play Friday at 6 p.m. (CT), facing seventh-seeded Nebraska or 10th-seeded Illinois.
"We have the opportunity, if we keep playing well, to play three games in three days," said Bluder. "It's a lot better than last year when we had to play four games in four days for the championship. We know it's going to be hard. Illinois beat us early in the year, and we swept Nebraska. They've kind of been our nemesis in the Big Ten Tournament, so this is our chance to turn that around."
The winner will play at approximately 8:30 p.m. (CT) on Saturday in the semifinals, while the championship game is set for Sunday at 6 p.m. BTN will televise games on Friday and Saturday, while the title game is set for ESPN.