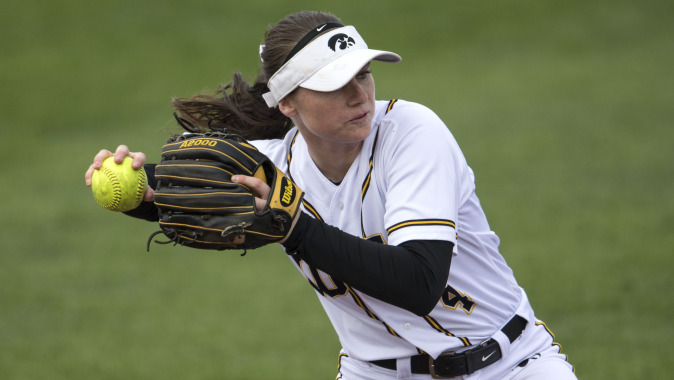 March 6, 2015
Box Score

FULLERTON, Calif. — The University of Iowa softball team fell to San Jose State, 11-2, Friday afternoon in Judi Garman Classic action. With the loss the Hawkeyes drop to 6-12 on the season, while the Spartans improve to 16-8.
"We have to make adjusts a lot quicker than we did today," said head coach Marla Looper. "We made very few adjustments in the field, at the plate and on the mound. We need to be more aggressive both offensively and on the mound, and take advantage of the opportunities that our opponents give to us."
San Jose State took an early 1-0 lead in the top of the first, stringing together back-to-back singles. The Spartans used three hits to plate three more runs in the top of the second to extend their lead to 4-0.
The Hawkeyes got one back in the bottom of the third. Sophomore Alyssa Navarro started the inning with a leadoff walk. Sophomore Claire Fritsch followed with a single up the middle to give Iowa runners on first and second with one out. The Hawkeyes used two wild pitches to move the runners around and cut the Spartan lead to 4-1. The Hawkeyes held San Jose scoreless in the third and fourth inning. In the fifth, the Spartans went through all three Hawkeye pitchers and added three runs on six hits to take a 7-1 lead. The San Jose State rally continued in the top of the seventh. The Spartans added four more runs on six hits to extend their lead to 11-1.
California natives Allie Wood and Megan Blank led the Hawkeyes at the plate. Wood, a freshman, sent her first career home run over the center field fence in the bottom of the seventh. Blank went 3-for-3 on the afternoon with three singles. The senior leads the team with a .360 batting average this season.
"We know she [Wood] has the ability to hit the long ball, and hit the ball really hard," said Looper. "She's been working really hard the past few weeks to get out of the rut she has been in. She has some great ability and we look for her to step up in a lot of moments in the near future."
Freshman starting pitcher Ashley Yoways (2-6) took the loss in the circle. She allowed six earned runs in four innings.
Iowa resumes tournament action tonight against Fresno State (14-5) at 9:30 p.m. (CT).
San Jose State 11, Iowa 2
1
2
3
4
5
6
7
R
H
E
San Jose State (16-8)
1
3
0
0
3
0
4
11
18
0
Iowa (6-12)
0
0
1
0
0
0
1
2
6
2
Game Decision
W: Lang (San Jose St.) 5-4
L: Yoways (IOWA) 2-6