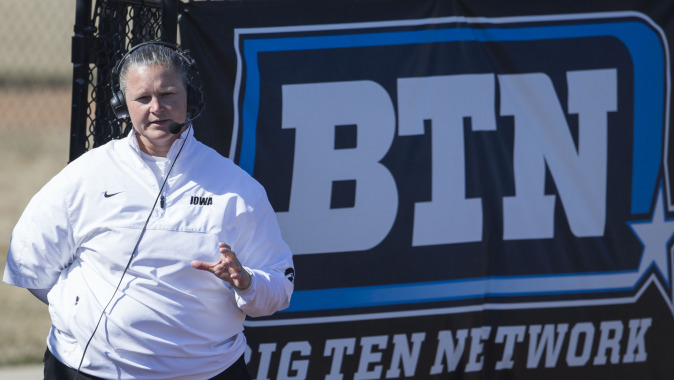 March 9, 2015
CHICAGO — The University of Iowa softball team will play three Big Ten Conference games live on the Big Ten Network in 2015, announced today.
The Hawkeyes' doubleheader against Nebraska at Bob Pearl Field in Iowa City on March 24 will be shown live on the network with game 1 starting at 4 p.m. (CT). Game 2 will follow at approximately 6 p.m.
Game 3 of Iowa's conference series at Wisconsin on April 12 will also appear live on BTN. First pitch is set for 3 p.m. BTN will also cover select Big Ten Tournament games live from May 8-9. Ohio State hosts the tournament in Columbus, Ohio.
Seven additional Hawkeye softball home games will be shown on BTN Plus available online at btn2go.com. Two of Iowa's home contests against Maryland on March 21-22, the April 2 game against Western Illinois, the April 3 game against Illinois, the Iowa Corn Cy-Hawk Series game against Iowa State on April 15, and two contests against Northwestern on May 1-2 are included on the list.