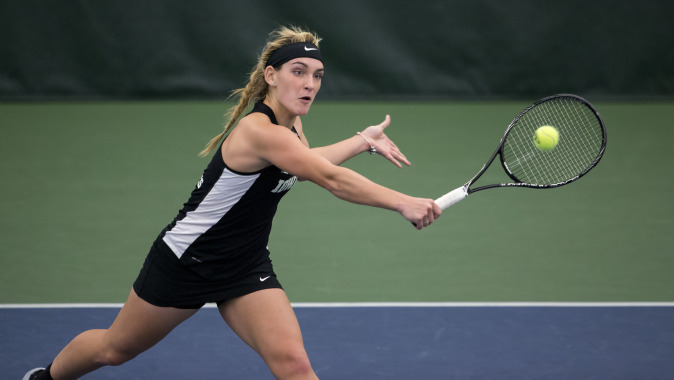 March 13, 2015
ANN ARBOR, Michigan — The University of Iowa women's tennis team was swept by No. 13 Michigan on Friday, 7-0. The Hawkeyes move to 6-5 overall and 1-2 in conference play.
"We ran into a very good Michigan team today that was playing well," UI head coach Katie Dougherty said. "We competed on our end and were overmatched at spots."
The Wolverines pulled away early, earning the doubles point after victories over senior Shelby Talcott and freshman Anastasia Reimchen, 8-2 at the No. 1 position and senior Morven McCulloch and junior Annette Dohanics, 8-3 at the No. 2 doubles slot.
At the No. 3 doubles position, Michigan's Kristen Dodge and Mira Ruder-Hook led freshman Zoe Douglas and senior Katie Zordani, 7-4 when the match was abandoned.
Michigan went on to sweep the Hawkeyes in singles play to solidify the victory.
At No. 1 singles, 21st-ranked Emina Bektas defeated Talcott in straight sets, 6-3, 6-2. Teammate McCulloch also struggled, as she fell at the No. 2 position to Michigan's No. 19 Ronit Yurovsky, 6-0, 6-1.
Reimchen was the only freshman featured in the lineup at the No. 3 singles slot. Michigan's Sarah Lee, ranked 124 in singles play, defeated Reimchen, 6-2, 6-3.
At the No. 4 slot, Dohanics was swept by the Wolverines' Alex Najarian, 6-0, 6-0.
Seniors Zordani and Ellen Silver rounded out the lineup at the No. 5 and No. 6 singles positions, respectively. Zordani took on Mira Ruder-Hook, ultimately falling 6-0, 6-2. Silver went against Sara Remynse, falling 6-1, 6-2 in straight sets.
"We'll regroup and get ready to play a good UNLV team," coach Dougherty noted of the upcoming dual.
Iowa returns to action on Tuesday, March 17 as they travel to Las Vegas, Nevada to go against UNLV. Action will begin at 10 a.m. (CT).
Iowa 0, #13 Michigan 7
Singles Results
No. 1 –No. 21 Emina Bektas (U-M) d. Shelby Talcott (Iowa), 6-3, 6-2
No. 2 — No. 19 Ronit Yurovsky (U-M) d. Morven McCulloch (Iowa), 6-0, 6-1
No. 3 — No. 124 Sarah Lee (U-M) d. Anastasia Reimchen (Iowa), 6-2, 6-3
No. 4 — Alex Najarian (U-M) d. Annette Dohanics (Iowa), 6-0, 6-0
No. 5 — Mira Ruder-Hook (U-M) d. Katie Zordani (Iowa), 6-0, 6-2
No. 6 — Sara Remynse (U-M) d. Ellen Silver (Iowa), 6-1, 6-2
(Order of Finish: 4-2-5-6-1-3)
Doubles Results
No. 1 — No. 14 Alex Najarian/Emina Bektas (U-M) d. Shelby Talcott/Anastasia Reimchen (Iowa), 8-2
No. 2 — No. 64 Sarah Lee/Ronit Yurovsky (U-M) d. Morven McCulloch/Annette Dohanics (Iowa), 8-3
No. 3 — Kristen Dodge/Mira Ruder-Hook (U-M) vs. Zoe Douglas/Katie Zordani (Iowa), 7-4 abandoned
(Order of Finish: Doubles 1-2)