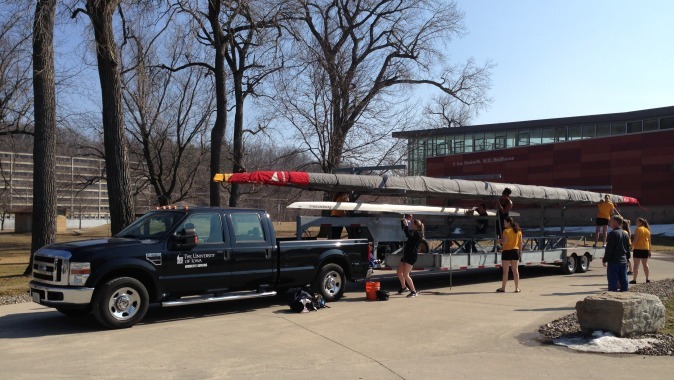 March 13, 2015
IOWA CITY, Iowa — For many college students, spring break is a welcome week off to be spent on vacation in warmer climates on sandy beaches with no responsibilities. But for members of the University of Iowa rowing program, it signals a week of training on the water full of hard work and team bonding.
The Hawkeyes head South on Saturday to Elberton, Georgia, where they will spend six days training at Richard B. Russell State Park — an official training site of the 1996 Olympic rowing regatta.
"It's secluded and the team is with itself," second-year head coach Andrew Carter said. "There are no distractions at all on this trip. We are staying in a state park in cottages and aside from going to get groceries; we stay in the state park. They spend a lot of time together and they share a lot of things outside of the rowing experience.
"On the rowing end of things, we're going to squeeze 3-4 weeks of rowing into one week because they'll be on the water eight hours per day. This venue is really good because it's a training site for the 1996 Olympics, so the state park keeps a 2,000-meter buoy course installed at all times. We're going to have measured distances, and we're going to be able to get tangible feedback on our boat speed. We're going to get a lot of indication on how fast we're going."
UI rowers are ready for the challenges of three-a-days and look to come together on and off the water after spending the winter months training rigorously indoor for a new season.
"This trip gets everyone excited and ready," 2014 Second Team All-Big Ten honoree Lauren Subler said. "We're all in good shape, but training three times a day will be good for technique and for fitness. It brings everyone together. You're with everyone the whole time, so it's just a good team thing."
"Not only do we get to spend a lot of time together and get to know each other better, but we also get to put unlimited meters in," 2014 First Team All-Big Ten honoree Zoe Ribar said. "We practice three times a day and we put in a lot of work. It's the big bang to end our winter training and the start of our spring season. It's really exciting to put what we've been doing on the erg back on the water and get a lot of work done."
In their second season under Carter, the Hawkeyes are excited about the strides they are making. After meeting winter training goals, the team has its aim on making a statement in the regular season with goals of finishing in the top 3 in the Big Ten and making a splash at the NCAA Championships.
"We're looking to make more strides this year and want to make a statement in the Big Ten," Subler said. "We want to be in the top three and have all of our goals lined up. Our winter training went really well. Everyone has a different attitude and has worked a lot harder. We're all ready for a change."
Iowa opens the regular racing season with a regatta on April 4 in Ithaca, New York. The Hawkeyes will face historically sound programs in Cornell, Yale, Syracuse and Boston in the event before continuing its season at the Big Ten Double Dual at Michigan and the Big Ten/Big 12 Challenge at Kansas.
"Everyone is super excited to get back on the water between those racing buoys and show everyone what we've been working on," Ribar said. "The spring trip is a great way to get that started."