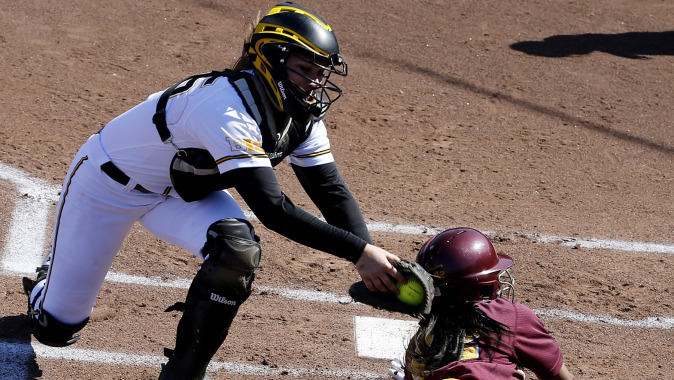 March 14, 2015
NORMAN, Okla. — The University of Iowa softball team split games against East Carolina (7-17) and No. 6 Oklahoma (19-3) on Saturday afternoon. The Hawkeyes (8-16) defeated the Pirates 5-1 in game one before falling to the Sooners 23-3 (5 innings) in game two.
The Hawkeyes reached the scoreboard early in game one. Sophomore Claire Fritsch and redshirt sophomore Sammi Gyerman drew walks to start the first inning. Senior Megan Blank followed with an RBI single to left before redshirt junior Holly Hoffman found grass in center to give Iowa a 3-0 lead.
"They came out and they attacked," said head coach Marla Looper. "It's nice to be able to do that when you are the visiting team. The frustrating part is that we didn't score again until the fifth when we had opportunities to keep scoring."
The Hawkeyes added another run in the top of the fifth. Gyerman drew her second walk of the game to lead off the inning. Blank moved her teammate to third with a double, and Gyerman capitalized on wild pitch to extend the Iowa lead to 4-0.
Iowa added an insurance run in the top of the seventh. Gyerman reached on an infield single before Navarro took a pitch to the thigh. Hoffman registered her third RBI of the game with a single to left to give Iowa a 5-0 lead.
East Carolina strung together four singles in the bottom of the seventh inning to score their only run of the game.
Blank and Hoffman led the Hawkeyes at the plate. Hoffman plated three runs on two hits, while Blank went 3-for-4 with two singles, a double and an RBI.
Redshirt sophomore Shayla Starkenburg (6-9) was credited with the complete-game win in the circle. She allowed one earned run on six hits in seven innings. The Ankeny, Iowa, native matched her career high with nine strikeouts.
"Shayla did a nice job of coming in and just taking care of them over and over again," said Looper. "I think she threw a good game. Defensively we played well, and we had momentum offensively. It was a good outing this morning."
Iowa 5, East Carolina 1
1
2
3
4
5
6
7
R
H
E
Iowa (8-15)
3
0
0
0
1
0
1
5
7
0
East Carolina (7-17)
0
0
0
0
0
0
1
1
6
3
Game Decision
W: Starkenburg (IOWA) 6-9
L: Cruise (ECU) 2-8
No. 6 Oklahoma scored 23 runs on 23 hits and eight walks in game two. The Sooners got the bats going early, scoring 11 runs on nine hits and two walks in the first inning. They added five runs in the second and third inning and another two in the fourth. Nine of the Sooners 23 RBIs came off of four home runs by Jessica Vest (grand slam), Lauren Chamberlain (3-run home run), Nicole Pendley (solo home run) and Shelby Pendley (solo home run).
The Hawkeyes snapped Oklahoma's scoreless streak (41 scoreless innings) in the top of the third. Freshman Sarah Kurtz led off the inning with a walk and moved to third on two wild pitches. Fritsch followed with a walk, before freshman Cheyenne Pratt sent an RBI single to left to put the Hawkeyes on the board. Blank kept the rally alive when she took a pitch to the shoulder, and Navarro capitalized on the RBI opportunity with a single to left – her second hit of the game.
Freshman Ashley Yoways (2-7) took the loss in the circle. She allowed 13 earned runs on 13 hits and five walks in 2.2 innings. Junior Jillian Navarrete pitched 1.1 innings in relief. She allowed 10 earned runs on 10 hits and three walks.
"We got a lot of information on Oklahoma today," said Looper. "We faced two of their pitchers, so that's great information for our offense. We saw every single one of their hitters, so when we get back on the mound tomorrow we can think about how we are going to face them and how we are going to shut them down."
Iowa will face the same two teams tomorrow. The Hawkeyes play East Carolina at 10 a.m. (CT), before taking on No. 6 Oklahoma at 2:30 p.m. (CT).
"It's a new day tomorrow," said Looper. "This is a good weekend, and a good opportunity for us to face some solid ball clubs. We just have to learn from today and improve on it tomorrow."
Oklahoma 23, Iowa 3
1
2
3
4
5
R
H
E
Iowa (8-16)
0
0
2
1
1
3
5
0
No. 6 Oklahoma (19-3)
11
5
5
2
X
23
23
0
Game Decision
W: Pendley, S. (OU) 5-1
L: Yoways (IOWA) 2-7