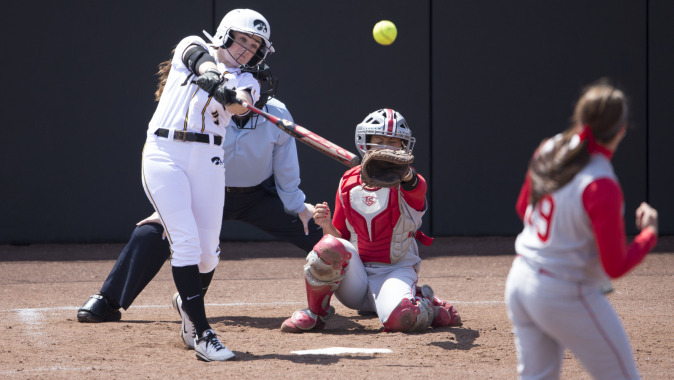 March 15, 2015
Box Score

NORMAN, Okla. — The University of Iowa softball team dropped an 8-2 decision to No. 6 Oklahoma (22-3) on Saturday afternoon in Oklahoma University Tournament action. With the loss the Hawkeyes are 8-18 overall.
Oklahoma scored early, putting five runs on the board in the bottom of the first inning. The Sooners used three hits – all home runs – and three walks to take a 5-0 lead.
"They only had seven hits, but they were major hits with runners on," said head coach Marla Looper. "Oklahoma is a quality ball club and they swing the bat well."
The Hawkeyes got a run back in the top of the second. Redshirt junior Holly Hoffman sent a solo blast to left center to cut the Sooner lead to 5-1. The home run was the fourth long ball of Hoffman's career and first of the season.
The Sooners plated two more runs in the bottom of the third. Oklahoma used two hits and three walks to extend their lead to 7-1. They added their eighth run of the contest in the bottom of the fourth. Oklahoma pitcher Erin Parker hit her second long ball of the day to give the Sooners an 8-1 lead.
Iowa and Oklahoma traded zeros for the next two innings before senior Megan Blank hit a solo home run over the center field wall in the top of the seventh. Blank's blast was the 20th of her career and second of the season. The Culver City, California, native is now tied with Katie Brown for seventh on Iowa's all-time career home runs list. Hoffman followed Blank's home run with a single to right field, but Oklahoma turned a double play on a grounder to the shortstop to end the game.
"Offensively we continued to make adjustments as we went on, but we have to do a better job of adjusting sooner," said Looper. "We did put the ball in play, but we just hit the ball right at them most of the time."
Redshirt sophomore Shayla Starkenburg (6-10) was credited with the loss. She gave up eight earned runs on seven hits. The Ankeny, Iowa, native struck out four and walked 12.
"We have to give ourselves a better shot of getting out of innings quicker," said Looper. "They are one of the top ball clubs for a reason but we get to face them again tomorrow night. We've seen three of their pitchers now. We need to take all of the education we got today and take it into tomorrow. "
The Hawkeyes and Sooners square-off tomorrow at 6 p.m. (CT).
No. 6 Oklahoma 8, Iowa 2
1
2
3
4
5
6
7
R
H
E
Iowa (8-18)
0
1
0
0
0
0
1
2
4
0
No. 6 Oklahoma (22-3)
5
0
2
1
0
0
X
8
7
0
Game Decision
W: Parker (OKLA) 9-2
L: Starkenburg (IOWA) 6-10